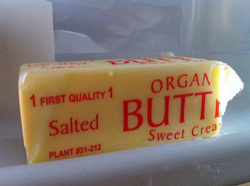 It's time to eat more (good) fat. Too many "experts" have scared Americans away from eating fat for far too long, with little research and no common sense to back up their theories.
We've thrown out the butter and turned to mysterious butter-like yellow-dyed spreads. We've switched from animal fats to "vegetable" oils that are no closer to a vegetable than a fruit (why not market them as "fruit" oils while they're at it?).
Americans have made these supposedly healthy changes and now have higher rates of obesity, diabetes, heart disease, and other chronic conditions than ever before. Good fat is essential to our health.
When we go shopping at the store we automatically avoid foods labeled "low fat," "reduced fat," "no fat," or "fat free."
Here's why we recommend you do the same:
Good fats help maintain healthy weight - large studies performed over multiple years compared women eating low fat or no fat dairy (milk, cheese, yogurt, etc.) to those eating whole fat dairy. Those eating whole fat dairy maintained a healthier weight than the others. Now everyone can breath a sigh of relief - fat doesn't make you fat.

Fat stabilizes blood sugar - fat is the most stabilizing nutrient for blood sugar. This is important for everyone, but especially important for diabetics. We all benefit from keeping our blood sugar stable, avoiding the extreme ups & downs that can cause health problems.
Fat satisfies hunger & improves energy - switch from a carbohydrate-heavy breakfast (like cereal, toast, muffins) to one with good fats and you'll probably notice you don't need a snack or a shot of the gas station's energy tonic to get you to lunch. Fat provides a long lasting source of energy making you less hungry because it stabilizes your blood sugar (see #2).

Fat can be anti-inflammatory - one of the most anti-inflammatory foods you can eat is omega 3 fat. Fatty fish provide a good source of this healthy fat which has been linked to a variety of health benefits including heart health, brain health joint health, etc. Naturally fattier fish like salmon are even healthier because they provide more of these good fats. Green leafy vegetables and the animals who eat them (grassfed beef, pastured chickens, etc.) can also be a good source.

Fat helps vitamin intake & utilization - some vitamins are fat-soluble which means they are commonly found in fatty foods and are best used by the body when eaten in combination with these fats. This includes vitamins A, D, E, and K. Ever hear of vitamin D deficiency? Without fats, these vitamins can't help the body function at its best.

Which fats are good fats?
We recommend three fats for most of your kitchen creations: real butter, extra virgin coconut oil, and extra virgin olive oil. Organic is preferred but not required. Butter should be from grassfed cows ideally, but we won't fight about it. Butter and coconut oil are best for cooking. Olive oil should not be heated much; save it for salad dressings.
Other oils that can also be a healthy choice: flaxseed, grapeseed, and hemp seed. Quality fish oil is a great supplement for those not eating 2-3 meals of fatty fish each week.
Now do yourself a favor and eat more good fat.