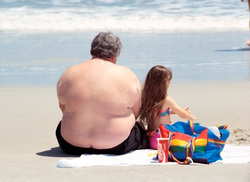 The National Obesity Forum and Public Health Collaboration recently released diet recommendations contrary to long-standing government recommendations -- Eat Fat & Cut Carbs
. These non-profit groups recommend governments cut ties with the food industry to make better dietary recommendations to help address the epidemic of obesity and type 2 diabetes around the world.
"The roots of obesity and type 2 diabetes are firmly embedded in the food
environment. Legislative efforts to encourage less consumption of processed foods and sugary drinks will help significantly reduce the burden of diet related disease which now contributes to more disease and death globally than physical inactivity,
smoking and alcohol combined."
"The role of poor dietary advice has been ignored for too long. Specifically, the 'low fat' and 'lower cholesterol' message have had unintended disastrous health consequences....[resulting] in increased consumption of low fat junk food, refined carbohydrates and polyunsaturated vegetable oils."
NOF & PHC recommend the following 10 messages be used to help educate the public
:
1. Eating fat does not make you fat
2. Saturated fat does not cause heart disease
3. Processed foods labelled "low fat", "lite", "low cholesterol" or "proven to lower cholesterol" should be avoided
4. Limit starchy and refined carbohydrates to prevent and reverse Type 2 diabetes
5. Optimum [added] sugar consumption for health is ZERO
6. Industrial vegetable oils should be avoided
7. Stop counting calories (calorie focused thinking has damaged public health)
8. You cannot outrun a bad diet
9. Snacking will make you fat (Grandma was right!)
10. Evidence based nutrition should be incorporated into education curricula for all healthcare professionals
These are great messages to consider when feeding your family. If any don't make sense to you, schedule a consult with our doctors or attend our next class on nutrition.