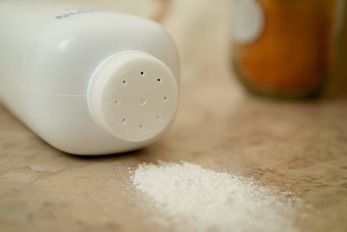 Johnson & Johnson has lost another lawsuit relating use of their talc baby powder to cancer in a 62-year-old woman, with $110.5 million in damages awarded. This follows almost $200 million in damages that Johnson & Johnson has had to pay other plaintiffs for failing to warn consumers about the risks of using talc baby powder.
Talcum powder is made from the mineral talc. As a powder, it absorbs moisture well and helps cut down on friction, making it useful for keeping skin dry and helping to prevent rashes. It is commonly used in cosmetic products like baby powder.
Cancer & Talc Baby Powder?
Most would assume a product sold for use on babies for decades would have zero risk. However, the
American Cancer Society notes there has been research indicating small but significant risks relating talc to cancer
:
"It has been suggested that talcum powder might cause cancer in the ovaries if the powder particles (applied to the genital area or on sanitary napkins, diaphragms, or condoms) were to travel through the vagina, uterus, and fallopian tubes to the ovary...Many studies in women have looked at the possible link between talcum powder and cancer of the ovary. Findings have been mixed, with some studies reporting a slightly increased risk and some reporting no increase...One study suggested genital talcum powder use may slightly increase the risk of endometrial (uterine) cancer in women who are past menopause."
The International Agency for Research on Cancer (IARC) is part of the World Health Organization (WHO) and classifies the perineal (genital) use of talc-based body powder as "possibly carcinogenic to humans."

To be safe, it's most likely best to avoid the use of talc baby powder as a precaution to avoid cancer.