Good Fish Oil Supplements & Alternatives for Those Who Don't Like Fish Oil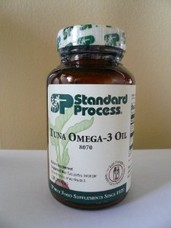 The American Heart Association recommends those with heart disease supplement with 1 gram of fish oil daily in addition to eating 2-3 meals of fish per week. Those with high triglycerides are recommended to take 2-4 grams of fish oil daily in addition to eating fish.
However, the healthy omega 3 fats in fish oil aren't just good for your heart. It has a variety of benefits related to its anti-inflammatory nature.
Omega 3 fats can support optimal brain development in babies, healthy eye development in children, healthy emotional growth & response, help maintain healthy brain & memory function, healthy immune system response, and support joint health.
The American Heart Association recommends all Americans at least eat fish 2-3 times per week. But what do you do if you don't eat fish or need a fish oil supplement? What if you don't like fish or fish oil?
We recommend two fish oil supplements known for their quality. It is important to use a brand that tests their product to make sure it is fresh and to confirm the level of mercury and other chemicals is as low as possible for quality and safety.
Standard Process Tuna Omega-3 Oil or Chewable

- these capsules are convenient and are recommended for most people to take 2-4 each day. The oil is derived from tuna harvested from the clean environment of the South Pacific to avoid contaminants. The chewable version has a mild orange flavor for children or adults who can't swallow the capsules or don't like the subtle taste of fish. They contain a natural balance of healthy EPA and DHA fats.

Carlson Fish Oils

- Carlsons carries fish oil supplements as capsules or liquids and with different dosages. This brand can be found in stores that carry high quality supplements.

What about alternatives to fish oil supplements?
We recommend three alternatives for those who can't take fish oil supplements.
Dr. Mercola's Krill Oil

- krill are tiny shrimp-like animals in the ocean that are a common source of food for larger fish. The krill is harvested from the waters of Antarctica and provide a good source of omega 3 fats. Some view krill as a more sustainable source of omega 3 fats to avoid endangering populations of fish. Two capsules daily are recommended for most people.

Calamari Omega 3 Liquid

- this doesn't taste quite like the appetizer at your favorite restaurant, but calamari is another good choice for omega 3 fats that is considered more sustainable. This comes in a bottle as a liquid oil so it is a great choice for those who can't swallow capsules. One teaspoon per day is recommended for most people. This could be added to salad dressing or other foods, but should not be cooked. Like fish oil, it is fragile and is damaged by heat. It must be refrigerated.

Linum B6

- this is primarily flaxseed oil with some added B complex vitamins. Flaxseed naturally contains healthy oils that the body can convert into omega 3 fats. The oil is extracted from the seeds at a low temperature to maintain the freshness and quality. This is a good vegetarian source of omega 3 fats. Three capsules daily are recommended for most people.
It's a good idea to store these supplements (or any liquid oils) in the refrigerator to keep them cool and dark to maintain freshness.
Remember, you should check with your doctor before taking supplements for any problems.
Our doctors are happy to discuss this with you and make recommendations that are best for you.
---
---