Don't Cook With Vegetable Oils or Olive Oil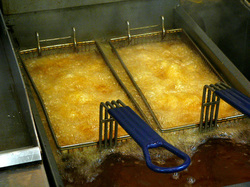 What fat are you frying with?
Researchers from the University of the Basque Country chemically tested extra virgin olive oil, sunflower oil, and virgin flaxseed oil for toxic compounds after exposure to high heat. They found that heating these oils, similar to how they would be used for frying food, produced chemicals called aldehydes. These chemicals have been related to neurodegenerative diseases like Alzheimer's and Parkinson's and some types of cancer.
The study result showed that flaxseed oil and sunflower oil produced these harmful chemicals more quickly, with sunflower oil having the highest amounts. Olive oil also produced these chemicals, but it took longer and produced less. The high heat damages the unstable fatty acids in the oil, producing the aldehydes which will then be found in food cooked in the oil.
These results make sense when considering the structure of these oils. Flaxseed and sunflower oil are high in polyunsaturated fats (similar to vegetable oil, canola oil, fish oil, soybean oil, corn oil, etc.). Olive oil has more monounsaturated fats which help stabilize it, but are still sensitive to heat. Saturated fats are the most stable when exposed to heat. These are found in butter, coconut oil, and animal fats.
We recommend using butter or extra virgin coconut oil for most of your cooking. If cooking with olive oil, try to keep the heat lower and for shorter periods of time. Olive oil is best when eaten raw like with salad dressing; and always use extra virgin. Flaxseed and fish oils are great oils with multiple health benefits, but should never be heated. They are best taken as a supplement or eaten raw if you like their taste. We recommend avoiding vegetable, canola, soybean, sunflower, corn, and other industrial oils that can be harmful to your health.
Fats are an important part of a healthy diet, but you have to choose the right ones.
Maria D. Guillén, Patricia S. Uriarte, Aldehydes contained in edible oils of a very different nature after prolonged heating at frying temperature: Presence of toxic oxygenated α,β unsaturated aldehydes, Food Chemistry, Volume 131, Issue 3, 1 April 2012, Pages 915-926, ISSN 0308-8146, 10.1016/j.foodchem.2011.09.079. (
http://www.sciencedirect.com/science/article/pii/S0308814611013562
)
---
---