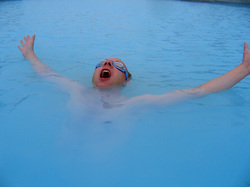 Less inflammation with every back stroke.
Physical activity has long been recognized as an important part of staying healthy, but a recent study shows it has the potential to also improve our health by reducing inflammation.
Why does reducing inflammation matter?
Inflammation has been linked to most all chronic diseases and conditions including obesity, diabetes, heart disease, asthma & allergies, digestive problems, arthritis, Alzheimer's, aches & pains, etc. Many conditions that are considered a part of aging are more likely the result of increasing inflammation. Temporary localized inflammation may be helpful for healing a cut or scrape, but inflammation throughout the body is a growing problem with many Americans.
Research on physical activity & inflammation:
In a study published in the Journal Circulation1, 4289 participants reported their level of physical activity, and blood tests measuring inflammation (CRP and IL-6) were performed over an 10 year period. Physically active participants had lower measured levels in inflammation.
Based on this data the researchers noted, "Regular physical activity is associated with lower markers of inflammation over 10 years of follow-up and thus may be important in preventing the pro-inflammatory state seen with aging."
"Regular physical activity...may be important in preventing the pro-inflammatory state seen with aging."
This is powerful news for those who have not heard it before. Regular activity could help prevent or improve a variety of chronic conditions. Exercise can help us stay younger and healthier.
Now before you start looking for a shortcut to living younger, consider that anti-inflammatory medications will not automatically provide the same
health benefits. That handful of pills carries an increased risk of stroke (in otherwise healthy individuals) among other problems. You can't cheat your way to better health, but there is another way to boost your inflammation-killing routine even further: an
anti-inflammation diet
.
Combine regular physical activity with an anti-inflammation diet to supercharge your health.
The basics of an anti-inflammation diet include:
Eat lots of whole vegetables and fruits

Eat good quality meat (pasture-raised, grassfed, wild animals)
Eat healthy fats (fish oil, extra virgin olive oil, coconut oil, butter)

If eating dairy, choose minimally processed dairy

Enjoy nuts & seeds

Drink mostly water

Eat lots of herbs & spices

Avoid processed foods, sweets, chemicals, grains, etc.
For more on an anti-inflammation diet read our article

.
Take charge of your health and see how much you can benefit from naturally reducing your inflammation.