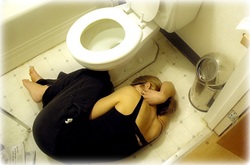 Research Shows Probiotics Prevent Diarrhea
MedPage Today
reports on
research that shows probiotics prevent diarrhea
resulting from the use of antibiotics
. Diarrhea is a common side effect that occurs after taking antibiotics; experienced in as many as 30% of patients.
Probiotics
are live microorganisms (in most cases, bacteria) that are similar to beneficial microorganisms found in the human gut. They are also called 'friendly bacteria' or 'good bacteria'. You can add these healthy microorganisms to your diet by taking supplements or by eating fermented foods.
Learn more about probiotics and fermented foods in our recent post.
What Did The Probiotics Research Show?
The researchers performed a meta-analysis in which they reviewed multiple studies that have been performed. They analyzed 82 randomly controlled studies on the subject and found a significant reduction in antibiotic-related diarrhea for those patients who received probiotics. Various probiotic strains were used including bacteria and yeasts. All tested strains demonstrated some benefit in preventing diarrhea, with an average reduced risk of 42%.
How Do Probiotics Prevent Diarrhea?
T
he researchers explain the benefit of probiotics:

"
Potentially, probiotics maintain or restore gut microecology during or after antibiotic treatment through receptor competition, competition for nutrients, inhibition of epithelial and mucosal adherence of pathogens, introduction of lower colonic pH favoring the growth of nonpathogenic species, stimulation of immunity, or production of antimicrobial substances."
Translation

:
Taking probiotics returns good bugs to our gut after antibiotics kill them. They compete against the bad bugs for nutrients and space, so it is harder for the bad bugs to develop into an infection. These healthy bugs also help stimulate our immune system.
Probiotics are basically the opposite of antibiotics.
Instead of taking a pill that kills any microorganisms in your body (good or bad), you take a supplement that increases the number of healthy microorganisms that should be in your body. This restores the natural balance and helps the immune system work as it should.
Do Probiotics Benefit Children & Adults?
Most of the research has been performed on adults, but studies on children have also noted significant benefit to using probiotics as well.
They are considered to be very safe. One possible risk is when used in neonates that have been born prematurely and have an immune deficiency. Babies should be enjoying the immune enhancing benefits from their mother's breastmilk anyway.
You can enjoy the benefits of probiotics by taking a supplement or eating fermented foods - learn more here.