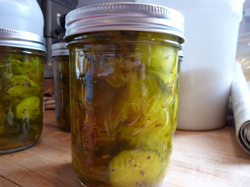 You may not be familiar with "fermented foods", but you have probably eaten them and enjoyed their probiotic benefits. Yogurt is likely the best known of fermented foods in America, and yogurt makers have recently increased their marketing to educate consumers on the health benefits of probiotics.
What Are Probiotics?
The National Institute of Health defines probiotics as "live microorganisms (in most cases, bacteria) that are similar to beneficial microorganisms found in the human gut. They are also called 'friendly bacteria' or 'good bacteria'."
Our body is swarming with trillions of these bacteria that help our body maintain a balance and stay healthy. A lot of these organisms are in our digestion system to help us digest certain foods.
They play an important role in supporting our immune system among other benefits.
What Are Fermented Foods?
Fermented foods are made with bacteria or yeast that consume their sugars and leave behind lactic acid or alcohol. For our purposes, we are primarily talking about fermentation that increases lactic acid content and not alcohol. This increase in lactic acid helps prevent harmful bacteria from growing, which makes the food safer to eat and allows it to be stored longer.
Most cultures around the world include some type of fermented food in their diet. These cultures all found that fermenting foods provides a number of benefits. Fermented foods contain healthy probiotics to keep our digestive system properly balanced, and the process makes certain nutrients easier to digest for us so we can get more out of the food we eat. It also adds a flavorful tang.
Common fermented foods consumed around the world: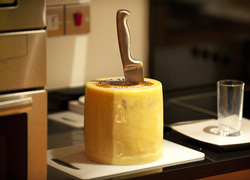 yogurt, cheese, and kefir

- fermented from milk

sauerkraut, pickles, and kimchi

- fermented from vegetables

cider and vinegar

- fermented from fruit

kombucha

- fermented from tea

sourdough bread

- fermented from grains
All kinds of food are fermented; even meat and fish. You may not be a fan of fermented fish paste, but many of these foods are quite delicious. They can be made at home, or are becoming easier to find at the grocery store.
What If We Don't Eat Fermented Foods?
We recommend everyone try to include fermented foods in their diet on a regular basis (at least weekly; daily is better). Watch out for two issues:
If the food has been pasteurized, any beneficial organisms have been killed so you won't experience the same benefit. Look for non-pasteurized fermented foods.
Some fermented foods are further processed to include lots of sugar or other chemicals, so read the ingredient label. Yogurt isn't healthy when it has more sugar per once than a can of pop.
If you don't eat any fermented foods, consider a probiotic supplement
. These often come in capsule or liquid form. Similar to the foods, just make sure to check ingredients so the company is not including sugars or other unhealthy junk. These should be taken on a regular basis, but can be especially helpful when noticing digestive issues or infections.
What About

Pre

biotics?
Prebiotics are indigestible food ingredients that stimulate the growth and maintenance of beneficial gut microbiota. Essentially, it's food that we can't digest, but it feeds healthy bacteria in our gut. While probiotics receive most of the attention, consuming prebiotics are just as important. Soluble fiber from fresh fruits and vegetables serve as prebiotics that feed the healthy organisms in our digestive tract. This is one more reason why its so important to eat lots of fresh fruits and vegetables. Fermented foods are great because they can provide both probiotics and prebiotics in one tasty package.
We should also consider avoiding foods that feed unhealthy bacteria and cause problems with our microbial balance. Limit sugars, artificial sweeteners, and chemicals.
Go out and eat some fermented foods today - your gut will thank you.