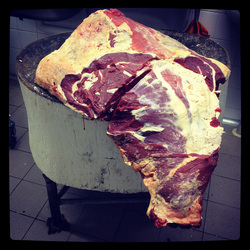 What's in your beef - probably Zilmax.
For years, many industrial farmers have fed cattle antibiotics and injected them with hormones to accelerate their growth. Now there's a new miracle drug called Zilmax that causes cattle to pack on the pounds reported Slate:
"A new cattle drug called Zilmax is being widely used in the industrial feedlots where most of America's beef comes from, but not because it produces a better sirloin. In fact, it has been shown to make steak less flavorful and juicy than beef from untreated cattle."
Designed to treat asthma in humans, Zilmax causes cattle to "swell up with muscle."
Designed to treat asthma in humans, the manufacturer later discovered Zilmax fed to cattle during the last weeks of life, causes them to "swell up with muscle." The drug is usually discontinued 3 days before slaughter to allow
most
of it to leave the animal's tissues.
Consumers won't notice the difference
The application sent to the FDA for drug approval noted a difference in flavor and tenderness, but noted consumers would not notice the difference. Farmers and meat processors initially avoided the drug due to quality concerns, but now more farmers and the four largest meatpackers (controlling 85% of the market) have started using the drug to keep up with the competition.
Last year's drought especially boosted Merck's sales of Zilmax. Slate noted, "Drought caused grain and feed prices to hit record highs, and feeding cattle became too pricey to be profitable in many parts of the country...With Zilmax, a feedlot owner can get more meat from a cow without feeding it any additional grain or letting it drink any additional water."
Health concerns about Zilmax in beef?
Health concerns? Who knows? It's already well established that
industrial-raised beef is significantly unhealthier than chemical-free grassfed beef
. Merck claims most of the drug leaves the meat, so don't expect any rigorous testing to uncover health effects in humans.
Now if your beef doesn't taste quite the same, it could be the antibiotics, growth hormones, high grain diet, or Zilmax used to plump it up in only one year instead of the usual two years. Should we also remind you of "pink slime" and "meat glue"? We recommend choosing local grassfed beef whenever possible. The price is reasonable when purchased in bulk and you will taste the difference. Find local farms for grassfed beef here.