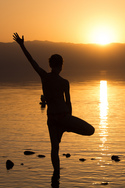 Yoga helps atrial fibrillation
It's been established that yoga benefits heart health, but how much could yoga help atrial fibrillation, a common condition that often requires medication to control abnormal heart rhythm?

Researchers recently studied the ability of yoga to help atrial fibrillation, as well as looking at quality of life, depression, and anxiety.
Study participants performed a 60-minute yoga session two times per week over a 3-month period. Medical questionnaires were used to measure atrial fibrillation episodes, depression & anxiety, and quality of life before and after the 3-month period.
Researchers noted significant changes with yoga and atrial fibrillation as well as the other measures
All measures improved after 3 months of yoga only twice per week, demonstrating that yoga helps atrial fibrillation, quality of life, depression, and anxiety. Improvements in blood pressure were also noted.
The researchers plan to perform a larger study to confirm the positive results
, but why wait? Yoga is a great form of physical activity that can benefit a variety of people, young and old. Include yoga in your weekly routine to see how it can help atrial fibrillation among other health issues.