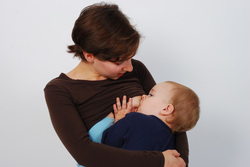 Breastfeeding benefits baby & mom.
Recent studies on
breastfeeding
& c-sections have reinforced the importance of raising children naturally whenever possible, while noting how poorly a job we are doing at encouraging women to do so. Here's a quick summary of four recent studies.
Breastfeeding Rates Improving, but Still Way Too Low
The American Academy of Pediatrics recommends
exclusive
breastfeeding for 6 months, followed by continued breastfeeding for at least 12 months due to multiple known health benefits for mother and child. A CDC analysis of American infants born between 2000-2008 revealed improvement in breastfeeding levels, but less than half of American babies meet breastfeeding recommendations for 6 months of feeding, and very few exclusively breastfeed for 6 months.
44.4% breastfed (often not exclusively) for 6 months & only 23.4% breastfed for the recommended 12 months
These rates of breastfeeding from infants born in 2008 represent an improvement over those born in 2000. Among infants born in 2000, 34.5% breastfed for 6 months, and 16.0% breastfed for 12 months. The American Pediatric Association recognizes very few reasons to avoid breastfeeding such as an active tuberculosis infection or undergoing chemotherapy.
Read about the numerous benefits of breastfeeding here.
Breastfeeding, C-sections & Baby's Gut Bacteria
R
esearchers involved in a recent study noted, "
The gut microbiota is essential to human health throughout life, yet the acquisition and development of this microbial community during infancy remains poorly understood. Meanwhile, there is increasing concern over rising rates of cesarean delivery and insufficient exclusive breastfeeding of infants in developed countries."
MedPage Today summarizes
: Passage through the birth canal gives infants a natural inoculation with bacteria from the mother, whose milk also shapes the baby's intestinal colonization, Rob Knight, PhD, of the University of Colorado in Boulder, and colleagues explained in an accompanying commentary.
"Breast milk, rich in prebiotics, selects for persistence of beneficial bacteria and limits colonization of harmful ones," they wrote. "The strong selective pressure of breast milk is demonstrated by the lower diversity of microbes in the gut of breastfed infants than in the gut of formula-fed infants."
"These changes in the developing microbiome could explain susceptibilities to a variety of conditions later in life," such as obesity, diabetes, and GI conditions.
Fetal Heart Rate Monitoring Leads to Overuse of C-sections
MedPage Today reports
: About a third of women have a first cesarean section based on "nonreassuring" fetal heart patterns seen with the electronic monitors despite almost no evidence for benefit, Alison G. Cahill, MD, of Washington University in St. Louis, explained during a symposium.
Studies have largely found a lack of benefit from the monitoring, while "C-section carries risks for the mother and often keeps women from vaginal delivery on subsequent pregnancies. One million of the 3 million births that occur each year in the U.S. occur via cesarean delivery."
Yet, of the 32% of primary cesareans done with fetal heart tracings as an indication, only a tiny portion reach the category III level at which the National Institute of Child Health and Human Development recommends cesarean delivery or operative delivery.
C-section Delivery No Safer for Twins
MedPage Today reports
: Twins don't do better with planned cesarean delivery than with planned vaginal birth when the first baby is in a good position, a randomized trial determined.
"There doesn't appear to be any reason for a woman to get surgery when she can get the same outcome for her babies by planning a vaginal birth," Barrett told
MedPage Today
.
"It's all very well to say with equal outcomes you have a free choice, but the impact you're having for those equal outcomes is one with abdominal surgery and one without, so the answer for me is quite obvious: why would you chose to have a surgical intervention with all the other ramifications for a woman's future life and future pregnancy."
These data from the largest clinical trial ever on this issue should help clinicians convince women that vaginal delivery is a good option, agreed conference program chair Donna Johnson, MD, of the Medical University of South Carolina in Charleston.
"Many women think that delivering twins vaginally is very unsafe and the safer mode of delivery by far is a cesarean section," she said in an interview. "This is not the case."