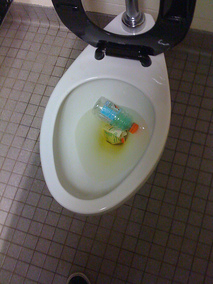 Pepsi dumps Gatorade flame retardant
Pepsi recently announced that Gatorade drinkers will no longer be drinking flame retardant chemical BVO in the future. But don't worry, you'll still sweat green, blue, red, or whatever color you drink.
Why is flame retardant BVO in Gatorade?
It's actually used in a variety of manufactured beverages as a way to make them look more appetizing. BVO attaches to flavor chemicals in drinks and helps them mix throughout. This prevents the ingredients from unpleasantly separating.
A recent Scientific American article noted increasing concern about the accumulation of this chemical in the body. BVO has already been banned in some countries, and needs further testing to determine safe limits.
Watch this Dr. Oz clip that explains the issue with flame retardant BVO in Gatorade and other drinks.
Rather than follow European rules of proving safety of products before sale to the public, America requires products to be proven unsafe before they can be banned from sale. Fortunately, Pepsi doesn't plan on waiting months or years for the FDA to ban BVO.
Gatorade will soon be replacing BVO with...another chemical.