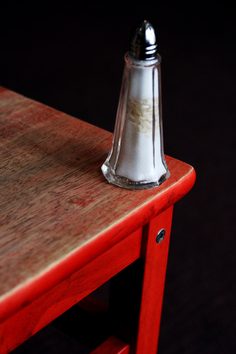 Should you be afraid of salt?
It's time again to catch up on some of the latest research related to natural ways to improve your health. From heart disease to diabetes and Alzheimer's you can do more than you think to prevent these diseases or stop them in their tracks...
Diet Benefits Beyond Meds for Heart Disease
A
study
of over 30,000 men & women confirms that changing to a healthier diet
can help prevent heart problems for those at high risk. A healthy diet also prevents further problems for those who already have heart disease.
Researchers found a benefit to healthy eating regardless of medications being taken. Those who ate the healthiest diet had a significantly lower risk of cardiovascular events (death, heart failure, stroke) than those eating the poorest diet.
This confirms that eating well helps everyone, not just those who are already healthy. It's never too late to benefit from a healthier diet, so start now.
Link Between Salt & Heart Disease Debatable
Reduced salt intake has frequently been recommended as a way to reduce blood pressure, heart disease, and stroke risk. However, this recommendation is growing in controversy within the medical community. A
recent article discusses the topic
, concluding the link between salt and heart disease may be overstated. It appears that while some individuals are more sensitive to salt, most are not.
We generally recommend reducing the intake of processed salt and choosing sea salt whenever possible. Sea salt includes some minerals that can allow our body to use it with less stress. If you are one of those who notice more sensitivity, reduce your salt intake as much as you can. Anyone concerned about heart disease should focus on reducing the #1 culprit...SUGAR (and other processed sweeteners).
Bariatric Surgery Doesn't "Cure" Diabetes
There has been increasing promotion of bariatric surgery to not only reduce weight, but also "fix" diabetes. These surgeries aim to shrink the stomach, often by surgical removal or restrictive banding. This severely limits the patient's ability to eat food, requiring a liquid diet initially.
A recent study
looked at the response of diabetics undergoing the surgery with a 5-year follow-up. Researchers found that while a significant number were able to control their diabetes for 5 years, around one third had relapsed within 5 years (and more would be expected to relapse over time, as well as gain weight back).
This is good news and bad news. While it shows there is no easy one-time fix for problems as complex as diabetes and obesity, making dramatic changes in diet can often stop diabetes in its tracks. Increasing consumption of nutrient dense foods (fruits & vegetables) and blood sugar stabilizing foods (good fats & proteins), reducing consumption of all processed foods, and exercising is still the best way to control diabetes and weight - and it avoids the significant side effects of bariatric surgery.
Exercise Prevents Progression of Alzheimer's Disease
While most of us know how important exercise is for the health of our muscles and joints, few appreciate how important exercise is for brain health. Cyrus Raji, MD, PhD, a postdoctoral researcher in radiology at the University of California Los Angeles,
studied the brains of 876 individuals and compared the size of memory areas of the brain to reported activity levels.
"Raji noted that researchers believe many Alzheimer's cases can be improved or prevented by lifestyle changes...'Lack of physical exercise is the No. 1 most powerful risk factor, contributing to 21% of cases,' he said. 'It is the third most powerful risk factor worldwide.'" He noted in his study Alzheimer's patients had less brain deterioration in those that were more active.
Moral of today's news & research:
Go out and be active! Find a healthy activity you like and participate on a regular basis. If you like a variety of activities that's even better for brain heath and overall health. And don't forget to eat well. These lifestyle changes will dramatically improve your health.