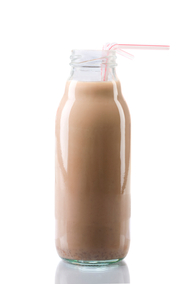 Normally we would tell you to run the other way when someone offers you a chocolate milk, but you can make a healthy chocolate milk at home. Follow this simple recipe to whip up a refreshing drink you and your kids can enjoy.
1.

1/4 cup of good quality milk
Good quality milk means the least processed milk you can find. Look for whole milk that hasn't been industrially processed to remove fat and homogenize it. Choose organic when you can to avoid antibiotics and hormones. Use milk from grassfed cows whenever possible.
Coconut milk is a good substitute.
2.

2 good quality eggs
Eggs? What? You're going to mix those in? Yes. Just make sure you're using good eggs - organic to avoid chemicals and strange feeds, and try to find pasture-raised eggs for a heftier dose of omega-3s and other important nutrients.
The eggs add a nice creaminess and a good source of healthy fats and protein.
3.
1 teaspoon of cocoa powder
As with all ingredients, try to get the real stuff. Avoid powders with added junk.
Real chocolate is packed with antioxidants.
4.

Stevia extract as needed to sweeten
You can try some of the stevia products available in local stores. One brand we like is KAL, available on amazon.com. Stevia is very sweet so you don't need much (some servings are no more than a couple drops for plenty of sweetness). It's extracted from an herb and is naturally low calorie. If you don't have Stevia, try a touch of minimally processed honey.
5. 1 Scoop of quality protein
(optional)
Protein mixes can be a healthy addition to your diet, but be careful to choose one that avoids heating the protein and adding processed sweet
eners or other chemicals.
Learn more about protein mixes here.
Blend and enjoy your delicious & healthy chocolate milk
You can vary the amount of milk or eggs for the desired thickness. Vary the amount of cocoa or stevia to find the desired richness & sweetness.
Other options:
Add 1 TBSP kefir for 1 billion CFU of beneficial probiotics
Add a capsule of vitamin D3 for a much needed boost for northeast Ohioans
Add krill oil or fish oil for more healthy omega-3 fats
Eating healthy can be delicious. It's all about eating real foods. Enjoy Dr Ryan's healthy chocolate milk recipe with your family.