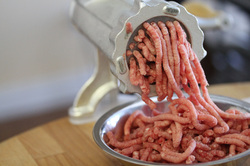 Can you spot the pink slime in this meat?
The media has been ablaze lately with two stories related to the meat you eat, and red meat has ended up on the losing side of a bloody battle. Enjoy this summary of recent events with our view on the topic.
"Pink Slime"
It all started with articles revealing the frequent use of "pink slime" as an unlabeled filler in beef. It's made from fatty meat trimmings left over after other meat cuts have been removed from the cow. The trimmings are heated to about 100 degrees F and spun in a centrifuge to reduce fat. Because these trimmings come from dirtier areas of the cow that are more likely to be contaminated with bacteria,
the resulting mix of lean trimmings are exposed to ammonium hydroxide gas to kill bacteria like E.coli and salmonella
. The sanitized trimmings are compressed into blocks and sold for use in ground or processed meat.
This cheap filler is added to meat without any labels telling the consumer it's there. You won't find "pink slime" on any ingredient list. The company that makes it calls it "lean, finely textured beef", but you won't find that on the label either. The government doesn't consider the ammonium hydroxide to be an ingredient, and otherwise considers the processed trimmings a "healthy" form of lean beef. What's to label? Lean beef is healthy.
Major grocery stores continued to say "yum."
With an overwhelming sound of disgust (and perhaps regurgitation) from Americans, McDonald's and other fast food chains quickly sent out press releases that they would no longer use "pink slime" as a cheap filler in their meat.
Unfortunately, major grocery stores continued to say "yum." A report noted several major grocery stores consider it to be healthy and would continue to add it to their meat without labeling it. The USDA reportedly purchased 7 millions pounds of the "healthy" product and noted it would continue to be a part of school lunches.
It was only a matter of time before the grocery store owners noticed the full disgust of the American public. Most major grocery stores (including Safeway, Kroger, Supervalu, and Giant Foods) now will stop selling "pink slime", but noted they will sell the rest of their current stock. Others including Walmart and Sam's Club noted they will start selling meat without it, but will not stop selling meat with it. The USDA has even stated that schools
may choose whether they want to feed their students with the product to keep costs low. Some districts have publicly stated they will no longer feed students "pink slime".
It looks like Americans' backlash is winning this war, but don't expect "pink slime" to completely disappear from the American diet any time soon. And if you're expecting a label now, we wouldn't bet our lean, finely textured beef on it.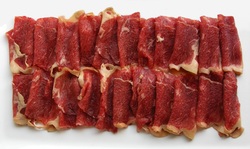 Red Meat & Cancer
In other news, research reported the link between consumption of red meat and cancer. An observational study looked at the reported diet of several thousand Americans and their health history over 22-28 years. There were no groups fed meat compared to groups living on veggies. It was simply an observation trying to link health conditions and diet. Researchers noted an increase in cardiovascular disease and cancer death for those eating red meat. Case closed, right?
Not all red meat is created equal.
Not so fast.
Not all red meat is created equal. Research has noted a significant nutritional difference in beef raised on a pasture compared to beef raised on a factory farm. Pastured cows eat primarily grass and develop a healthier fat composition. Their meat actually contains more healthy omega-3 fats, which have been reported as good for the heart and brain, among other benefits. It also contains more CLA, a fat that has been linked to a reduced risk of cancer. In contrast, cows fattened up on cheap grains, injected with hormones, and fed antibiotics tend to have much fattier meat and the type of fats in their meat is more harmful. This rather major detail was overlooked in the study.
Based on common sense and quality research, our doctors find grass fed or pasture-raised beef without additives can play a role in a healthy diet.
Local farms
provide a good source for this healthy meat.