It's hard to keep up with all of the recent health news, so here's a rundown on the latest.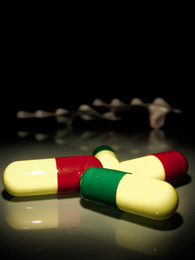 Sleeping Pills Called 'as Risky as Cigarettes'
Study Links Sleeping Pills to 4.6-Fold Higher Death Risk
WebMD
recently reported on research that showed a surprisingly high death rate related to taking sleeping pills. Researchers estimate that
sleeping pills are linked to 320,000 to 507,000 U.S. deaths each year
:
The top third of sleeping-pill users had a 5.3-fold higher death risk. They also had a 35% higher risk of cancer, the study found. "We are not certain. But it looks like
sleeping pills could be as risky as smoking
cigarettes. It looks much more dangerous to take these pills than to treat insomnia another way," study leader Daniel F. Kripke, MD, tells WebMD. The sleeping pills in question are known as hypnotics. They include newer drugs such as zolpidem (the best known brand name is Ambien) as well as older drugs such as temazepam (the best known brand name is Restoril).
In their latest study, Kripke's team analyzed 2002-2007 data from a large Pennsylvania health system. They obtained medical records for 10,529 people who were prescribed hypnotic sleeping pills and for 23,676 matched patients who were never prescribed sleeping pills. "We think these sleeping pills are very dangerous. We think they cause death. We think they cause cancers," Kripke says. "It is possible but not proven that reducing the use of these pills would lower the U.S. death rate."
You may want to consider alternatives when possible.
Natural sleep aids like melatonin were not linked to these risks. Read the full story
here on WebMD
.
---
More Evidence Omega-3 Rich Diet May Protect Aging Brain
Medscape Medical News recently reported on research published in the Journal of Neurology that indicates increased omega-3 fat consumption is beneficial for brain health:
New data from the Framingham Offspring Study cohort suggest that higher dietary intake of the omega-3 fatty acids docosahexaenoic acid (DHA) and eicosapentaenoic acid (EPA) may help protect the aging brain. Results showed that lower red blood cell (RBC) levels of DHA and EPA in late middle age were associated with smaller brain volumes and a "vascular" pattern of cognitive impairment, even in persons free of clinical dementia.
"People with lower blood levels of omega-3 fatty acids had lower brain volumes that were equivalent to about 2 years of structural brain aging," study author Zaldy S. Tan, MD, MPH, from the Easton Center for Alzheimer's Disease Research and the Division of Geriatrics, University of California, Los Angeles, comments in a written statement.
This study, Dr. Tan told
Medscape Medical News
, "adds to the current body of evidence on the beneficial health effects of omega-3 fatty acids." However, he said, it is premature to make clinical recommendations solely based on this study. "It needs to be validated in other populations and extended to clinical trials, which may be able to provide more specific recommendations."
"With that said, people who are already consuming fish as part of a balanced diet can take stock in the promising findings of this study that omega-3 fatty acid may benefit not only their heart but their brain as well," Dr. Tan said.
The findings
were published
in the February 28 issue of
Neurology
.
Read the Medscape article here
.
If you're not including fish in your diet, add it or add a good quality fish oil to supply your omega-3 fats.
---
Statin Labels Will Come With New Safety Warnings
CNN
reported on changes in labeling for cholesterol medications, which will warn of newly recognized risks:
An entire class of statin drugs will get new labels that alert the public to safety concerns, the Food and Drug Administration announced Tuesday. Statins, which treat cholesterol, now will come with labels that include a warning that the drugs, taken by almost 32 million Americans,

can cause memory loss and confusion

. The FDA says reports in general have not been serious, and the symptoms subsided when patients stopped taking the medications.
The new labeling will also warn doctors and patients that

statins can cause hyperglycemi

a, an increase in blood sugar levels

and increase the risk of Type 2 diabetes

.
Amy Egan, deputy director for safety in the FDA's Division of Metabolism and Endocrinology Products, says the agency looked at the adverse events reported to determine the scope of the problem. They can't say what caused the memory loss and confusion, but it seems to be a class effect and a rare event.
While these medications may be helpful for some patients, most see dramatic improvement in a short time in their cholesterol when they eliminate processed food from their diet and eat more whole foods like fruit, vegetables, and good quality fat & protein. Some patients have come to our clinic for aches and pains, and we figured out their painful complaints were related to their cholesterol medication. Once they improved their cholesterol with better eating habits and their physician no longer recommended the medication, most of the muscle aches went away. Read the full
CNN article here
.