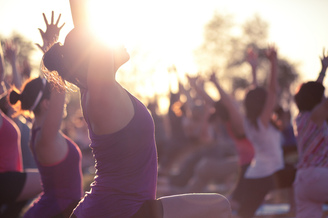 Diabetics may be able to improve their DNA with exercise
One of our favorite topics is the growing research on epigenetics and healthy lifestyle. Epigenetics refers to the expression of our genes. Think of each gene in our DNA having an up and down switch that controls whether the gene works a lot or a little. This is a powerful topic because it shows that we can change our genes with simple lifestyle choices like eating well and exercising. We are not slaves to "bad genes".
A recent study on epigenetics found that w
ithin just a few hours of exercise, genes involved in muscle oxidation, DNA transcription, and glucose regulation were upregulated (told to "work harder"). Researchers had thought these types of changes were slow to occur, so there is excitement about the speed at which these positive changes happened.
Genes that reduce a diabetics ability to regulate sugar were positively improved with exercise.
The scientists involved noted the important application of their findings to diabetes. Prior research has shown diabetics have an altered expression of these genes in their muscles. They are not as active as they should be. It helps explain why diabetics are less sensitive to insulin and have trouble regulating glucose levels. The same genes that reduce a diabetic's ability to regulate sugar with insulin were positively improved with exercise.
The benefits of exercise for diabetics was clear already, but this new research sheds light on the benefits of exercise at a genetic level. This makes sense. Our bodies are designed to move and be active. When we move our bodies they work the way they are meant to and adapt well to a changing environment. When we don't move our bodies, we're in trouble.
Exercise once for a few hours and your DNA is set for life, right?
So you can exercise once for a few hours and your DNA is set for life, right? Nope. The researchers found that the positive epigenetic changes reversed several hours later.
Clearly, regular exercise (not hours a day) is the key to making healthy changes. Expect future research to explore how a long-term exercise program results in long-term epigenetic benefits. For now, get away from the computer and get moving.
R. Barres et al., "Acute Exercise Remodels Promoter Methylation in Human Skeletal Muscle," Cell Metabolism 15:405-11, 2012.