From Oregon State University:

Researchers in the Linus Pauling Institute at Oregon State University have discovered yet another reason why the "sulforaphane"compound in broccoli and other cruciferous vegetables is so good for you – it provides not just one, but two ways to prevent cancer through the complex mechanism of epigenetics.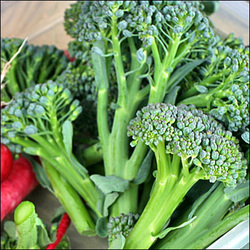 Broccoli is more than just good looks
Sulforaphane, can help restore proper balance and prevent the development of cancer. This is one of the most promising areas of much cancer research. But the new OSU studies have found a second epigenetic mechanism, DNA methylation, which plays a similar role.

"Cancer is very complex and it's usually not just one thing that has gone wrong," said Emily Ho, an associate professor in the Linus Pauling Institute and the OSU College of Public Health and Human Sciences. "It's increasingly clear that sulforaphane is a real multi-tasker. The more we find out about it, the more benefits it appears to have."

This research, which was published in the journal Clinical Epigenetics, primarily studied the effect on prostate cancer cells. But the same processes are probably relevant to many other cancers as well, researchers said, including colon and breast cancer.


oregonstate.edu



For those unfamiliar epigenetics, this is a growing area of research that has revealed the ability of our lifestyle choices (like eating broccoli) to change the activity of our DNA. It won't change the genes, but it can switch them on or off. The natural phytochemicals in broccoli basically flip a switch in your genes that tells them to grow in a healthier way.
Epigenetic research has increasingly shown that our daily habits play a powerful role in determining whether we develop heart disease, cancer, and a variety of chronic conditions. Take control of your health and eat your vegetables.
Common cruciferous vegetables include broccoli, cauliflower, kale, cabbage, and brussel sprouts. Mom was right. These veggies pack a powerful nutritional punch. Try to include them regularly in your diet, especially anyone with an increased risk of cancer. Make sure to eat some of these veggies raw to avoid cooking away the beneficial nutrients. When cooking, using lower heat for a limited time is best. Don't cook them into a mush.