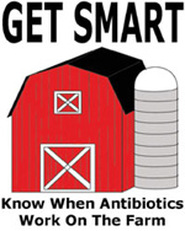 Pop Quiz: Who consumes the most antibiotics in this country?
A. Humans
B. Livestock (including the animals we eat)
C. Cousin Bob, he's always sick with something
It has been reported that more antibiotics are consumed by our farm animals than by humans in the US. Our last blog post discussed the efforts of the the Center for Disease Control (CDC) to help physicians reduce the use of antibiotics for children and adults. Unfortunately, the farm industry has been slower to respond.
The CDC
reported in 2005, "In the United States, data on the quantity of antibiotics given to food animals is not available to the public or to government agencies. According to the Union of Concerned Scientists, about 25 million pounds of antibiotics and related drugs are used every year in livestock for nontherapeutic purposes. The Animal Health Institute estimates that 20.2 million pounds of antibiotics were produced for use in farm and companion animals in 2003."
Why are so many antibiotics being used on farm animals (and what are "nontherapeutic purposes")?
The CDC reports, "Antibiotics are used in food-producing animals for three major reasons:
Antibiotics are used to treat sick animals

.

Antibiotics are used in the absence of disease to prevent diseases

during times when animals may be susceptible to infections. This use affects a larger number of animals, because it usually involves treating a whole herd or flock, which increases the likelihood of selecting for organisms that are resistant to the antibiotic. In these two examples, high doses of antibiotics are used for short periods of time.

Antibiotics are commonly given in the feed at low doses for long periods to promote the growth of cattle, poultry, and swine

. In the 1950s studies showed that animals given low doses of antibiotics gained more weight for a given amount of feed than untreated animals. Exactly how this occurs is unknown. This effect appears to be less effective or absent in animal production settings with good sanitation."
Do you notice anything odd here? While doctors recommend humans take antibiotics
only
when they are sick with a bacterial infection, our
animals are given antibiotics to prevent infections and to cause them to gain weight
(more pounds = more $$$). Often farmers are not therapeutically treating sick animals. They are using antibiotics to fatten up animals quicker, and as an easy way to keep them from becoming sick. The Union of Concerned Scientists notes, "This type of 'disease prevention' is a crutch that allows [factory farm] operators to avoid good husbandry practices that could avoid and manage disease outbreaks responsibly, and is the ideal breeding ground for antibiotic-resistance."
Based on the CDC's information above, we can assume the farms using antibiotics to fatten their animals must not provide "animal production settings with good sanitation", otherwise this wouldn't work. A sanitary environment seems like a reasonable "good husbandry practice" to expect from farms. Other issues involve crowding the animals in limited space and feeding them unnatural foods (primarily corn-based diets) that tend to bring on these diseases.
Because of increasing antibiotic use, the CDC is concerned about growing resistance to antibiotics and started "Get Smart: Know When Antibiotics Work On The Farm".
The CDC notes, "Antibiotic resistance is a food safety problem for several reasons:
Antibiotic resistance is increasing to some antibiotics

...commonly used to treat serious infections caused by bacterial pathogens frequently found in food, such as Salmonella and Campylobacter. Each year, several million people in the United States are infected with [these bacteria]...


More people may become ill

. Ordinarily, healthy persons who consume a few Salmonella may carry them for a few weeks without having any symptoms, because those few Salmonella are held in check by the normal bacteria in their intestines. However, even a few antibiotic-resistant Salmonella in food can cause illness if the person who consumes the contaminated food then takes an antibiotic for another reason. The antibiotic can kill normal bacteria in the gut, letting a few Salmonella that ordinarily would be unlikely to cause illness, take over and cause illness...

The food supply may be a source of antibiotic-resistant genes

. Harmless bacteria present in food-producing animals could be resistant, and humans could acquire these bacteria when they eat meat products from these animals. Once ingested, resistant genes from these bacteria could be transferred to bacteria that cause disease. Quantifying the extent to which this contributes to a food safety problem is difficult."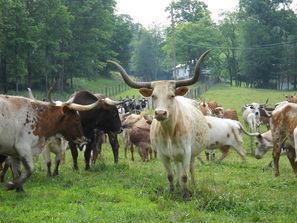 These healthy cattle are grown locally without antibiotics.
How do resistant bacteria spread from animals to humans?
The CDC notes, "Resistant bacteria may be transferred to humans through the food supply or direct contact with animals. For example, Campylobacter lives in the intestines of chickens. People get Campylobacter diarrhea primarily from eating undercooked chicken. In 1989, none of the Campylobacter strains from ill persons that CDC tested were resistant to fluoroquinolone antibiotics. In 1995, the FDA approved the use of fluoroquinolones in poultry. Soon afterwards, doctors found Campylobacter strains from ill persons that were resistant to fluoroquinolone antibiotics."
What does the CDC say about this health risk?
"The use of antibiotics to promote growth is widespread in food animal production. Antibiotics used for growth promotion increase the pressure for bacteria to become resistant. To address this public health problem, the World Health Organization (WHO) has recommended that antibiotics not be used for this purpose. It is determined that this practice is unsafe for the public's health (World Health Organization)."
There is growing agreement that farmers should at least stop using antibiotics as a cheap way to fatten their livestock, and we may see legislation to stop this. It will be harder to convince factory farms to give up using antibiotics as a preventive health measure. They would have to provide a more sanitary environment with more space for the animals and provide healthier feed to keep them from becoming sick. That costs money.
The best way to encourage positive change is by avoiding meat grown with antibiotics. We recommend looking for
meat that is grown without antibiotics
(or hormones) to avoid any potential harm to your health. Organic foods are grown without the chemicals or medication. Pasture-raised or grass fed animals are even better. Farms will only produce what sells, so buy the good stuff.
Find more information about this topic on the
CDC's website
.