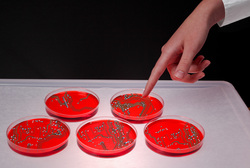 "A new scientific breakthrough in meat may change the way people classify their eating habits. Scientists have figured out how to produce animal flesh in a lab, and will soon be marketing it for consumption. This man-made meat has huge implications for the future of food, as it is entirely different from the current vegetarian tofu-based substitutes."
"Globally there are about thirty projects in development to create more of these meat cultures, which NASA scientists have already proved to be possible. The demand for research in this area is very high, as companies are very interested in investing in these products. If successful, man-made meat can largely replace traditional meat simply because it was created without any cruelty to animals and produced in a sustainable manner."
-
dailyfoodtoeat.com
Next time you stop by your favorite restaurant, the daily special could be grilled tenderloin (grown extra tender in the lab) and a side of genetically modified corn and mashed potatoes. Doesn't it make your mouth water? In case you didn't know,
the corn you eat is most likely already genetically modified
(most of it is in the US). At least you could count on your meat coming from an animal before.
Whether this meat is healthy or not, it will likely follow the same path that genetically modified foods have in the United States:
The FDA will be aggressively lobbied by the companies that produce lab meat to avoid any regulation, leaving that up the the companies themselves.

The companies will report some short term animal studies they ran to show the meat is safe for human consumption.

Despite the concerns of researchers, the FDA will determine no independent long term studies need to be performed.

The FDA will state lab meat is essentially the same as animal meat; therefor it is approved for human consumption in the US and does not require any labeling.
At the very least, these foods should be clearly labeled so consumers can make a choice.
We recommend consumers avoid these unnatural foods until long term independent research has been performed to determine whether they are safe for human consumption. Research demonstrating it's healthy would be even better.