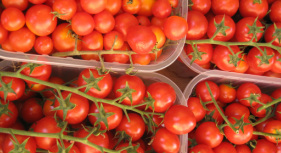 There are plenty of excuses for not eating healthy.
The most common complaint is that it costs too much. Most won't argue that they could actually save money in the long run by avoiding expenses for health problems related to unhealthy eating. But what about right now?
Here's 7 tips to help you spend less now (and later) while eating healthier.
Buy Vegetables in Season

- they are generally cheaper in season because there's more to go around. In February that includes: broccoli, brussels sprouts, cabbage, cauliflower, grapefruit, kale, leeks, lemons, oranges, parsnips, rutabagas, tangelos, and turnips. In March look for: artichokes, broccoli, brussels sprouts, cauliflower, leeks, lettuce, mushrooms, parsnips, pineapples, radishes, rutabagas, and turnips. Watch for those sales in the produce aisle and stock up.

Buy Frozen Vegetables

- most frozen veggies are just about as good as fresh ones. Fill the freezer so you always have some around without worrying about them going bad. It's best to avoid canned fruit & veggies with added salt and sugar.

Drink Water

- quit wasting your money on "performance enhancing" sugary beverages. Do you really need an energy boost to be able to flip through TV channels faster? Water is the best and cheapest drink on earth. Use a filter on your tap and fill up a metal bottle instead of buying plastic bottles each day. Most bottled water is just tap water in disguise.

Grow a Garden in Your Yard

- buy a few packs of seed for only a few dollars and fill your table with fresh, chemical-free produce during the summer. If you're really dedicated, you could stretch our growing season from early spring to late autumn with insulating covers or frames. Don't forget fruits. Strawberries and raspberries spread each year (unless you cut them back), providing an abundant harvest of delicious berries with little work.

Grow a Garden in Your House

- whoever said you need a yard for a garden? With a jar, water, and seeds, you can make sprouts year-round with little effort. Some of the most common seeds for sprouting are alfalfa, broccoli, radish, red clover, and mung beans. Many more types can be sprouted. Seeds cost only a few dollars per pound, but can produce heaps of sprouts.

Shop at the Local Farmers' Market

- snag great deals buying local produce straight from the farmer. You get better quality food that's fresh in season. The best deals come in the last hour or so when everyone wants to clear out their stock.

Pick Your Own

- local farms offer opportunities to pick your own fruit or veggies at a reduced price. This is a great chance to stock up. Take the whole family and make an adventure of it.
You don't have to be rich to eat healthy. It just takes a little effort, but it's worth it.