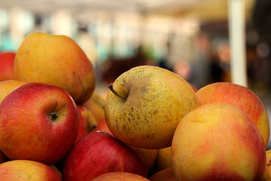 Apples: Taste the Pesticides in Every Bite
With organic fruits and vegetables now sold in almost every grocery store, is it time to take a bite?
Today's fruits and vegetables are regularly doused with a variety of toxic chemicals to keep pests away.
Over 50 different pesticides are found on peaches alone
. More consumers are choosing organic to avoid potential risks. But when do you get what you pay for?
The Environmental Working Group has performed an analysis comparing pesticide levels in common fruits & vegetables sold in America. The resulting
Shopper's Guide to Pesticides
"ranks pesticide contamination for 53 popular fruits and vegetables based on an analysis of 51,000 tests for pesticides on these foods, conducted from 2000 to 2009 by the U.S. Department of Agriculture and the federal Food and Drug Administration. Nearly all the studies on which the guide is based tested produce after it had been rinsed or peeled."
The EWG Shopper's Guide has developed two lists to help you know when buying organic is worth the money.
The Dirty Dozen includes produce covered in high concentrations of a chemical cocktail (even after rinsing and peeling). The Clean Fifteen include the cleanest produce that have the least amount of chemical residue.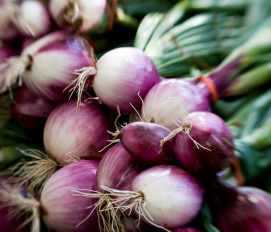 No Worries Munching on These Onions
The Clean Fifteen:
The Dirty Dozen
:
Onions 1. Apples


Sweet Corn

2. Celery

Pineapples

3. Strawberries

Avocado

s

4. Peaches

Asparagus

5. Spinach

Sweet Peas

6. Nectarines (imported)

Mangoes

7. Grapes (imported)

Eggplant

8. Sweet Bell Peppers

Cantaloupe

(domestic)

9. Potatoes

Kiwi

10. Blueberries (domestic)

Cabbage

11. Lettuce

Watermelon

12. Kale / Collard Greens

Sweet potatoes

Grapefruit




Mushrooms
Go Forth & Be Fruitful
. What we recommendation when considering organic produce:
If you love apples (celery, strawberries...) and eat a lot of them, buy them organic as much as possible.


Don't want to pay for organic? Just eat more on the clean list and avoid the dirty dozen.

Still don't want to pay for organic? Plant a garden and grow your own produce without chemicals.

Buy produce from local farms that may not be certified organic, but avoid using chemicals.


Eat more fruits & veggies regardless. The beneficial nutrients outweigh the risks from pesticides.