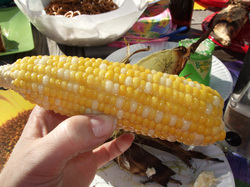 If you are what you eat (which you are), then YES. You are genetically modified. Most Americans are. Very few of us know which foods are genetically modified and even fewer are able to avoid them. It's hard to avoid them because they are in most of what we eat and no labels are required.
We're not talking about the old fashioned cross-breeding of two plants. We're talking about genetically inserting DNA from a virus into corn to make it produce a pesticide in its cells or to make it survive heavy doses of herbicides that kill competing weeds.
So let's take a look at genetically modified (GM) foods you may be eating...
The following crops grown & consumed in America are GM
:
Soy
- 91% grown in the US is GM
Corn
- 85%
Sugar Beets
- 90% (all that sugar isn't from cane)
Canola
- 88%
Cotton
- 71%
Hawaiian papaya
- more than 50%
Zucchini and Yellow Squash
- small amount
If you are like most Americans, you eat these foods or food additives made from them multiple times each day (soy protein, corn starch, high fructose corn syrup, sugar, dextrose, vegetable oil, margarine, aspartame, modified food starch, soy lecithin, etc.). Most packaged food sold in stores or food prepared in restaurants uses corn or soy ingredients.
What about meat, dairy, and eggs?
Guess what most cows, chickens, and pigs are being fed? Corn & soy. It's cheap and fattens them up quickly. That means the meat, dairy, and eggs you buy in the store are also made using GM foods. Additionally, many cows are injected with the GM hormone rbGH to increase milk production.
How can you avoid GM foods?

Again, GM foods don't have to be labeled in the US so they are not easy to avoid, but here are five helpful tips:
Avoid the foods listed above

- none of the foods above are needed for good health




Eat grass-fed beef and pasture-raised chicken & eggs

- you'll still have to ask if they use supplemental feed

Eat local

- local farms are producing non-GM foods and you can go see how they are grown


Look for a Non-GMO Label

- some products now voluntarily label their foods

Eat organic

- these foods cannot contain GM ingredients
For more information about GM foods and their health risks go to the
Institute for Responsible Technology