Swiss Breakfast Recipe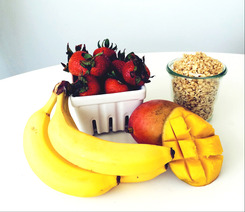 Try your favorite fruits, nuts & seeds
4 cups oats
1 tsp cinnamon
1/2 cup raisins
1/2 cup sliced almonds
1/2 cup dried apricots chopped
1/2 cup sunflower seeds
4 chopped dates
1/4 cup dried cranberries

Mix all ingredients together. This amount of ingredients will make about 8 servings. This can be kept so it's ready for future use. For 2 servings bring 2 cups water to a boil. Add 1 1/4 cups Swiss Breakfast. Cook low heat uncovered, stirring occasionally until water is absorbed, about 7 minutes. Cover, and set for about 2 min before serving. Recipe from www.whfoods.com

To lower the carbohydrate content, try reducing the amount of oats and increasing the nuts and seeds. Feel free to try adding other nuts and fruit to achieve the taste you like.

---
---