Probiotics & Fermented Foods: Eat More Bugs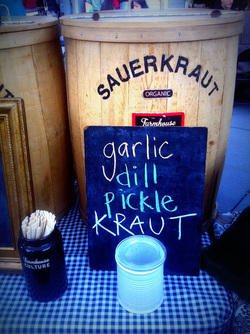 Sauerkraut (unpasturized) is a great source of probiotics
Of all the most critical nutrients identified for optimal health and wellness, probiotics have continued to climb toward the top of the list in recent years. Probiotics are neither vitamins or minerals. However, healthy levels of probiotics are critical for digestion and absorption of these nutrients from the food we eat and supplements we take.
The term "Probiotics" refers to the healthy bacteria living in and on our body. We are dependent on the presence of 100 trillion bacteria in and on our bodies in order to maintain proper health and function, and the gut is their primary location.
While a healthy ratio of gut flora equals approximately 85% good to 15% bad, most Americans, when tested, display the exact opposite - a ratio of 85% bad to 15% good. This unhealthy balance of gut flora has been linked to immunity problems, increased infections, vitamin & mineral deficiencies, attention deficit/ hyperactivity disorder, anxiety, depression, autism, type II diabetes, obesity, and negative reactions to vaccines.
3 Steps to maintain the proper ratio of good bacteria to bad:
Eliminate foods that feed the bad bacteria (sugar, artificial sweeteners, and grains)
Eat plenty of foods that feed the good bacteria (fresh vegetables and fruits)
Include probiotics in your diet on a daily basis either through supplementation or the consumption of fermented foods (kefir, yogurt, sauerkraut, fermented veggies, natto, kombucha, etc.
---
---