5 Reasons to Save Artificial Sweeteners for Your Worst Enemy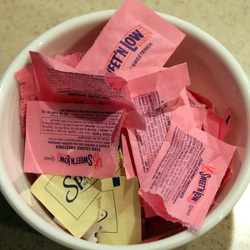 Don't poison your cup
Hopefully you don't have any enemies. But if you did, the sneaky health problems research has linked to artificial sweeteners make them the perfect weapon to use against your foes:
1.
Weight Gain
- Recent studies have shown that those using artificial sweeteners are more likely to gain weight over time. A heart study from the University of Texas Health Science Center San Antonio followed patients for almost 10 years. "On average, for
each
diet soft drink our participants drank per day, they were 65 percent more likely to become overweight during the next seven to eight years, and 41 percent more likely to become obese," said Sharon Fowler, M.P.H., faculty associate in the Center's department of medicine. Diet soda drinkers gained more weight than regular soda drinkers. Additionally, drinking two or more diet sodas a day bloated waist size five times more than people who avoided the stuff entirely. Scientists think artificial sweeteners increase our need for sweet foods and cause us to eat more junk, leading to more and more weight.
2.

Increased Risk of Stroke
- A 9-year study of about 2500 people performed at the University of Miami found a relationship between diet soda and vascular problems. According to the research, those who drink one or more diet sodas on a daily basis have a 61% greater risk of experiencing vascular events than those who don't drink diet soda. In plain English: your much more likely to have a stroke if you drink diet soda regularly.
3.

Increased Risk of Diabetes
- A study on mice showed higher blood sugar levels after eating artificial sweeteners for three months. The increased blood sugar levels along with increased weight gain are clear signs of an increased risk for diabetes when consuming artificial sweeteners.
4.

Increased Risk of Kidney Problems
- Scientists from Brigham and Women's Hospital in Boston conducted research on a group of 3,000 women. The results indicated that those who drank two or more artificially-sweetened beverages a day doubled their risk of kidney problems. This may be because artificial sweeteners are chemicals that are not food, so the body has to detox and remove them in the urine through the kidneys.
5.

Increased Risk of the Unknown (but Suspected)

- A variety of health problems have been questioned from time to time in relation to artificial sweeteners. These include neurotoxicity (brain/nerve toxicity), alteration of friendly gut bacteria, bladder cancer, headaches, etc.
Artificial sweeteners cause more complaints to the FDA than any other product.
More high quality long term research is needed. Don't be a lab rat.
The potential risks of using artificial sweeteners and the lack of benefit have been well documented. Don't waste your health or money on this junk. There are much better tasting options that are not nearly as dangerous to your health.
Ask our doctors for more information.
---
---