What's Hiding in Your Olive Oil?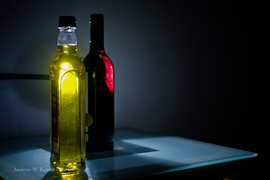 What you don't know...can hurt you.
Most Americans have heard over and over again that extra-virgin olive is a healthy choice and should be a staple in your kitchen. Many have been willing to pay the higher price for this healthy high quality oil. Unfortunately, investigations into the quality of olive oil sold in American has produced rather disappointing results. The University of California, Davis published a report on olive oil noting the failure of many olive oils to meet international and USDA quality standards. Writer Tom Mueller has released a book titled
Extra Virginity: The Sublime and Scandalous World of Olive Oil,
which details the dirty secrets inside the olive oil industry.
"Extra-virgin" olive oil should be made from crushing fresh olives, done without using high heat or chemical solvents

.
Many brands are not living up to this standard. UCD research tested imported "extra-virgin" olive oils sold in America and found that 86% failed to meet quality standards. They noted 3 primary reasons for low quality oil:
Exposure to heat, light or aging, which causes them to become rancid (oxidized)

Adulteration with cheaper refined olive oil

Poor quality oil made from damaged and overripe olives, processing flaws, and/or improper oil storage
86% of Imported Extra-Virgin Olive Oils Sold in the US Failed to Meet Quality Standards
Tom Mueller details the ways companies are cutting corners to save money and sell a cheaper product. These companies are not just adding lower-grades of olive oil ("virgin olive oil" or "olive oil") that may have impurities and chemicals in them. Some add cheap soybean, canola, vegetable, or other inferior oils to their "pure olive oil". These inferior oils are much less healthy, potentially health-harming, and are a much cheaper product.
Your "Italian" olive oil may not even be from Italy. This is another marketing gimmick to make you think you're purchasing a higher quality product. 2 out of 5 bottles that say "Italian" olive oil are not really from Italy. Mueller notes "A lot of those oils have been packed in Italy or have been transited through Italy just long enough to get the Italian flag on them." Don't believe everything you see on the bottle.
2 out of 5 bottles that say "Italian" olive oil are not really from Italy
So who's selling you good olive oil and who isn't? UCD researchers tested the most common brands to find out. You may be surprised by the results:
---
The following brands failed to meet extra-virgin olive oil standards

:

• Bertolli

• Carapelli

• Filippo Berio

• Mazzola

• Mezzetta

• Newman's Own

• Pompeian

• Rachel Ray

• Safeway

• Star

• Whole Foods

The following brands were found to meet extra-virgin olive oil standards

:

• Corto Olive

• California Olive Ranch

• Kirkland Organic

• Lucero (Ascolano)

• McEvoy Ranch Organic

Check out the

UCD study here

: file:///C:/Users/Back%20Office%20PC1/Downloads/olive-20oil-20final-20071410-20updated.pdf
What's really the difference between grades of olive oil?
"Extra-virgin" is the least processed as noted above. "Virgin" olive oil goes through further processing, and "olive oil" is the most processed. Manufacturers will use industrial processing methods like high heat, chemical solvents, or high pressure to extract more oil from the olives. They may also use older olives that are overripe or rotten. All of this damages the quality of the oil, which determines how healthy it is to eat. To maintain its beneficial health properties, it must be kept away from heat, light, or other damaging factors. That's why it should be sold in a dark bottle to keep it from going bad. That's also why you should be wary of using olive oil for high heat cooking. It's best when used (like with salad dressing) or with lower heat cooking.
Extra-virgin olive oil is a great part of a healthy diet, but be aware of what you are buying and don't believe everything you read on the bottle.
Some of those oils have a higher price for a good reason.
---