Vogley Enterprises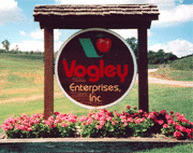 Blueberries, Blackberries and Peaches
Watch for dates & times
in season
Vogley Enterprises, Inc.
3245 Battlesburg Street SE
East Sparta, OH 44626
(330) 484-4387
www.vogleyenterprises.com
We have an abundance of delicious fruits, cider and apple butter available in season. Vogley's started their business in 1985. It is located in the beautiful rolling hills of Ohio. Our farm is diversified into apples, peaches, blueberries, blackberries, award winning cider and apple butter.
They do not spray their blueberries. Blueberry fields are clean, well-kept, and great for picking. They limit picking days to ensure there will be bushes full of berries for easy picking when you go. The berries are plump and great for eating fresh or freezing for later. Enjoy the pictures from our picking day below.
---
---