Vitamin D May Help Fibromyalgia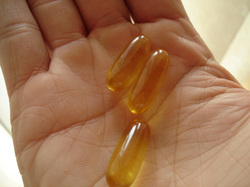 MedPage Today
reported on a recent study of that indicates vitamin D may help fibromyalgia:
"Only 15% of fibromyalgia patients in a small study had adequate levels of vitamin D, suggesting implications for treatment. 'We do know that vitamin D deficiency is associated with muscle pain, which is why we did this observational study,' Ramakrishnan told
MedPage Today
.
The study findings must be considered in light of the background population, however, Ramakrishnan said. 'Ireland is not very sunny, and 30% to 40% of all Irish women are deficient in vitamin D,' he explained. 'We postulate that these patients are staying indoors because of their pain, and aren't inclined to go on holidays in sunny locations because of their disability.'
'We are currently giving all our fibromyalgia patients vitamin D supplements,' he added."
---
Vitamin D Can Reduce Muscle Pain in Fibromyalgia Patients?

Research has found a link between vitamin D deficiency and increased muscle pain, whether a person has fibromyalgia or not.

There is still a lot to learn on the topic. However, it makes sense to use the safe approach of vitamin D supplementation to ensure we have optimal levels.

Vitamin D is actually more like a hormone than a vitamin, and has a wide variety of important functions in the body. One of the benefits is its anti-inflammatory nature. A reduction in inflammation often helps reduce aches and pains.

The best way to determine proper supplementation is by having a simple blood test performed to check vitamin D level.

---

What is Fibromyalgia?


"Fibromyalgia is a common syndrome in which a person has long-term, body-wide pain and tenderness in the joints, muscles, tendons, and other soft tissues.

Fibromyalgia has also been linked to fatigue, sleep problems, headaches, depression, and anxiety." - nih.gov

---

---
Can Vitamin D Help Fibromyalgia Patients in Canton Ohio?
Canton, Ohio has the same issue of cloudy weather and little sun that Ireland does. It's especially hard to find much sun in Northeast Ohio during the winter. Sunshine is our main source of vitamin D, so if we're not exposed to sun we can't produce enough. When we are exposed to enough sun to cause rosiness of our skin, our body can make a good dose of vitamin D. The amount naturally occurring in foods is fairly low, so it's difficult to get all of the vitamin D we need from our diet alone.
Most of our patients have been deficient or insufficient in vitamin D when their blood level is tested. It's an easy test to have performed that can be valuable for more than just those suffering from fibromyalgia.
Our Recommendations for Vitamin D (for those with or without Fibromyalgia)
If you haven't had your level checked, go have it tested

Increase healthy sun exposure (sun is good for you - just avoid burns)

Talk to our doctors about the best amount to supplement based on your level
Most patients require a large dose to increase their blood level, then can take a reduced dose to keep it maintained. Learn more about vitamin D supplementation and healthy sun exposure. Vitamin D is a safe and easy way to help fibromyalgia and other common health issues.
---