The Low-Speed Collision Myth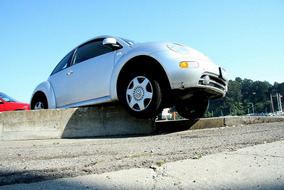 Our Doctors of Chiropractic Are Here to Help You When Needed
Have you ever heard that if your vehicle wasn't significantly damaged in an auto accident, then you weren't injured? It is a common statement made by misinformed people. They state that low-speed collisions with minimal vehicle damage do not cause significant injury. What does the research say?
WRONG.
Based on the research, vehicle damage is not a reliable indicator or predictor of injury.
There are no credible studies suggesting that one can predict injury based upon vehicle damage. The public has been mislead and misinformed. The force required to injure soft tissue injury is much less than the force required to damage a vehicle. Vehicles are designed (especially the bumpers) to withstand low-speed collisions with minimal damage. When a vehicle crunches in a high-speed collision, it absorbs the force of the collision. When a vehicle bounces instead of crunches in a low-speed collision, guess what absorbs the force? You do.
This myth is convincing because, in general, it would make sense that more vehicle damage correlates to more injury. However, we can understand why this is false in low-speed collisions once we realize how vehicles are designed to avoid damage.
Consider the following facts:
1. There is no relevant science that equates injury potential to vehicle damage.
2. No accident reconstructionist can predict how much force it takes for a specific individual to be injured (everyone is different - think about a 5 pound baby vs. a 7 foot 350 pound football player).
3. Doctors are trained to determine an injury based on health history, examination, x-ray and other diagnostic tests. No MD, DC, DO or other medical professionals are educated to look at vehicle damage to determine the presence or absence of injury.
4. Strong research exists demonstrating that chronic pain is often the result of Low Speed Rear Impact Collisions (lower than 5 mph).
Doctors at McMichael Chiropractic have been treating auto injuries in Canton and the surrounding area for over 35 years. We enjoy helping these patients improve their health and return to their normal activities. We understand how complicated these cases can be. It is important to find a doctor who is able to help you reduce your pain and regain your function.
---
---