Splenda® Not So Splendid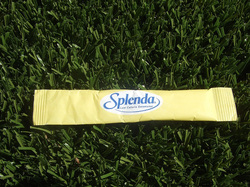 They say it's not natural, but you wouldn't know from the ads.
Splenda® has been heavily marketed as the latest & greatest artificial sweetener. Advertising has led Americans to believe it is somehow more natural and safer than other artificial sweetener. Let's take a closer look at the truth.
What is Splenda
®
?
The Splenda® website states: "SPLENDA® is also the brand name for the ingredient sucralose. It is made through a patented, multi-step process that starts with sugar and converts it to a no calorie, non-carbohydrate sweetener. The process selectively replaces three hydrogen-oxygen groups on the sugar molecule with three chlorine atoms."
How does it work?
The website notes: "After it is ingested, most (about 85%) is not absorbed and passes through the body unchanged in the stool. Of the small amount that is absorbed, most leaves the body unchanged in the urine within 24 hours." Basically, they have transformed normal sugar (sucrose) into a new chemical that the body does not recognize, so most of it passes through.
Is it natural?
The website clearly states it is not natural, but don't feel bad if you were mislead by the advertising: "Sucralose (or SPLENDA® Brand Sweetener), the high intensity sweetener used in all SPLENDA® Products is not natural. It is a no calorie sweetener that is made from a process that starts with sugar.
Although sucralose has a structure like sugar's and a sugar-like taste, it is not natural
. The advertising and packaging for SPLENDA® Products do not represent the product as 'natural.'"
Is is safe?
Splenda's® new line of sweeteners continue to present Splenda® in a natural, healthy light: "Now you can make everything you sweeten a little bit better for you with
SPLENDA® ESSENTIALS™ Sweetener Products
!" These new products include fiber or vitamins to make them appear like a healthy option. A chemical that the body tries to remove without absorbing is not a healthy option. Think about what your body is telling you - "I don't want this in me."
What does the research show?
An
assessment
of animal feeding studies failed to find definite development of pathological problems after sucralose consumption, but indicated potential health issues that should be further researched. Studies have noted shrinking in lymph cells of the spleen and thymus, increased intestinal weight, growth retardation, increased liver weight and reduced red blood cell count in female rats, and increased kidney growth and mineral deposition. At higher levels of consumption, pregnant rabbits showed decreased body weights with diarrhea, deaths, and abortion (though this was explained as possibly an issue related to rabbit sensitivity).
Recent research on artificial sweeteners has indicated potential
health problems
that had been previously unknown. These problems include weight gain, increased risk of stroke, increase risk of diabetes, and increased risk of kidney problems. It is thought that artificial sweeteners trick the body by being very sweet without providing calories. This increases cravings of other sweet foods that are loaded in calories and eventually causes weight gain. Problems with insulin sensitivity result, which increase diabetes and cardiovascular risk. The forced clearing of these chemical sweeteners stresses the liver (our blood filter) and kidneys and intestines (our waste removers). That explains the enlargement of these organs and eventual decline in function. Splenda®/sucralose is unlikely to be any different than other artificial sweeteners, because the way they all work is basically the same.
We recommend choosing natural sweeteners when you need to satisfy that sweet tooth. Try stevia (a naturally sweet herb), raw honey, or real maple syrup.
---
---