Research on Low Back Pain & Chiropractic Treatment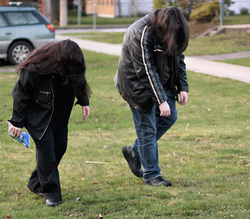 Research supports chiropractic treatment
_
The following are excerpts from recent studies on chiropractic and low back pain. Research indicates chiropractic care is a safe and effective way to treat low back pain.
"
Patients with chronic low-back pain treated by chiropractors showed greater improvement and satisfaction at one month than patients treated by family physicians
. Satisfaction scores were higher for chiropractic patients. A higher proportion of chiropractic patients (56 percent vs. 13 percent) reported that their low-back pain was better or much better, whereas nearly one-third of medical patients reported their low-back pain was worse or much worse."
– Nyiendo et al (2000), Journal of Manipulative and Physiological Therapeutics
"
Acute and chronic chiropractic patients experienced better outcomes in pain, functional disability, and patient satisfaction
; clinically important differences in pain and disability improvement were found for chronic patients."
– Haas et al (2005), Journal of Manipulative and Physiological Therapeutics
Low back pain initiated with a doctor of chiropractic (DC) saves 40 percent on health care costs
when compared with care initiated through a medical doctor (MD), according to a study that analyzed data from 85,000 Blue Cross Blue Shield (BCBS) beneficiaries in Tennessee over a two-year span. The study population had open access to MDs and DCs through self-referral, and there were no limits applied to the number of MD/DC visits allowed and no differences in co-pays. Researchers estimated that allowing DC-initiated episodes of care would have led to an annual cost savings of $2.3 million for BCBS of Tennessee. They also concluded that insurance companies that restrict access to chiropractic care for low back pain treatment may inadvertently pay more for care than they would if they removed such restrictions.
– Liliedahl et al (2010), Journal of Manipulative and Physiological Therapeutics
"
Chiropractic care appeared relatively cost-effective for the treatment of chronic low-back pain
. Chiropractic and medical care performed comparably for acute patients. Practice-based clinical outcomes were consistent with systematic reviews of spinal manipulative efficacy: manipulation-based therapy is at least as good as and, in some cases, better than other therapeusis."
– Haas et al (2005), Journal of Manipulative and Physiological Therapeutics
"
Chiropractic patients were found to be more satisfied with their back care providers
after four weeks of treatment than were medical patients. Results from observational studies suggested that back pain patients are more satisfied with chiropractic care than with medical care. Additionally, studies conclude that patients are more satisfied with chiropractic care than they were with physical therapy after six weeks."
-- Hertzman-Miller et al (2002), American Journal of Public Health
Info from www.acatoday.org
---
---