Research on Chiropractic Cost-Effectiveness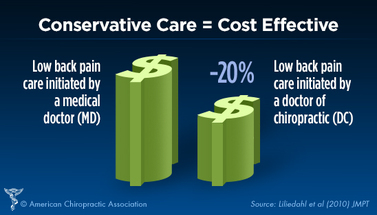 Chiropractic treatment can save money
_
_
_
_
The following are excerpts from recent studies and analyses of insurance company data on chiropractic cost-effectiveness. Research indicates chiropractic care is often less costly than physiotherapy or medical care for the same condition.
Researchers completed an exhaustive analysis of an integrated database belonging to a giant, self-insured Fortune 500 manufacturer covering nine years of claims for low back pain (LBP) treatment of their employees. They evaluated the direct and indirect costs of LBP for all employees, looking in-depth at personnel characteristics, and medical, behavioral health, pharmaceutical, Workers Comp costs, disability, absenteeism, and lost productivity during the 2001 to 2009 period.
Among various treatment approaches,
chiropractic care was was found to best follow established treatment guidelines and be the least costly. Over three years of treatment, chiropractic care on average was about 1/3 the cost of physical therapy, and 1/6 to 1/4 the cost of medical care
. Chiropractic care was even less costly than approaches that included testing and advice but no treatment.
--
Allen, Harris et al (2014),

J Occup Environ Med
A recent
study of Optum insurance data
concluded, "spinal manipulation is the single service that -- if
not
included during management of a non-surgical spinal episode -- will lead to higher total episode costs. Optum data, which covered a two-year span, projected a total
savings of $1.3 billion had its reported 14.7 million non-surgical spinal episodes begun with chiropractic care
."
The data from patients covered under Optum insurance plans showed that when spinal manipulation is performed "within the first 10 days of a spinal episode, results include:
Reduced overall episode costs
Lower frequency of imaging, injections, prescription medications and surgery"
-- Optum Insurance Data (2015)


While health care conversations increasingly mention chiropractic care as a viable option for back and neck pain – and research increasingly supports its utility from a clinical standpoint – a nationwide study of complementary and alternative medicine (CAM)-related health care expenditures by 12,000-plus adults (ages 17 and older) with spinal conditions lends support to the suggestion that
CAM in general, and chiropractic specifically, is also a cost-effective alternative to traditional medical care
.
Although CAM users had "significantly better self-reported health, education and comorbidity compared with non-CAM users" – variables critics have relied on in previous studies to explain why CAM users have lower health care expenditures" – the current study revealed that even when controlling for these variables, CAM users had lower annual medical costs ($424 lower) for spine-related conditions and lower total health care costs ($796 lower) than non-CAM users.
-- Martin et al (2012) Med Care
In 2009, Arnold Milstein, MD, MPH, of Mercer Health and Benefits, and Niteesh Choudhry, MD, PhD, of Harvard Medical School, compared chiropractic care to that provided by medical physicians, and concluded that, "
When considering effectiveness and cost together, chiropractic physician care for low back pain and neck pain is highly cost effective
[emphasis in original], represents a good value in comparison to medical physician care and to widely accepted cost-effectiveness thresholds.
-- Choudhry et al, (2009) Mercer Health and Benefits
A 2007 report from ACN Group, a subsidiary of UnitedHealth Group (the nation's largest health insurer), has recently become publicly available. After demonstrating that orthopedic conditions account for more medical expenses than any other condition (surpassing even cardiology), and that back and neck pain account for a far higher percentage of orthopedic expenses than any other orthopedic condition, the report goes on to show that
chiropractic services for back and neck pain are significantly more cost-effective than all competing approaches
.
When care is initiated with a chiropractor, the severity adjusted total episode cost is lower
than for care initiated with a primary care medical physician, and drastically lower than for care initiated with an orthopedist, physical medicine and rehabilitation physician, or other practitioner.
-- Elton D (2007), ACN Group (UnitedHealth Group) Report
In a Randomized controlled trial, 183 patients with neck pain were randomly allocated to manual therapy (spinal mobilization), physiotherapy (mainly exercise) or general practitioner care (counseling, education and drugs) in a 52-week study. The clinical outcomes measures showed that manual therapy resulted in faster recovery than physiotherapy and general practitioner care. Moreover, total
costs of the manual therapy-treated patients were about one-third of the costs of physiotherapy or general practitioner care
.
-- Korthals-de Bos et al (2003), British Medical Journal
Low back pain initiated with a doctor of chiropractic (DC) saves 40 percent on health care costs
when compared with care initiated through a medical doctor (MD), according to a study that analyzed data from 85,000 Blue Cross Blue Shield (BCBS) beneficiaries in Tennessee over a two-year span. The study population had open access to MDs and DCs through self-referral, and there were no limits applied to the number of MD/DC visits allowed and no differences in co-pays. Researchers estimated that allowing DC-initiated episodes of care would have led to an annual cost savings of $2.3 million for BCBS of Tennessee. They also concluded that insurance companies that restrict access to chiropractic care for low back pain treatment may inadvertently pay more for care than they would if they removed such restrictions.
– Liliedahl et al (2010), Journal of Manipulative and Physiological Therapeutics
"
Chiropractic care appeared relatively cost-effective for the treatment of chronic low-back pain
. Chiropractic and medical care performed comparably for acute patients. Practice-based clinical outcomes were consistent with systematic reviews of spinal manipulative efficacy: manipulation-based therapy is at least as good as and, in some cases, better than other therapeusis."
– Haas et al (2005), Journal of Manipulative and Physiological Therapeutics
Info from
www.acatoday.org and chiro.org

---
---