Natural Relief for Foot & Ankle Problems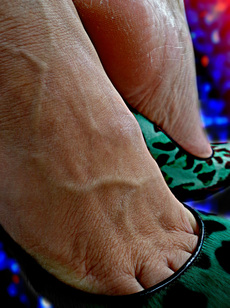 Foot and ankle problems are too common these days.

In fact, 75% of Americans will experience foot health problems of varying degrees at one time or another in their lives, with women experiencing about four times as many foot problems as men.

Our doctors at McMichael Chiropractic can attest to the prevalence of foot problems. We treated more cases during this summer than ever before.
Did we see more cases than usual because foot and ankle problems are increasing?

Maybe, but we think this increase was mostly for the same reasons we continue to see a rise in patients seeking our help with any number of varied conditions (headaches, high cholesterol, hand and wrist complaints, difficulty with weight loss, etc.) - more individuals are seeking natural, conservative health care techniques that focus on correction and strengthening of the underlying issues or weaknesses rather than riskier options that often focus on temporarily reducing the symptoms created by the underlying stress.
Do our doctors use custom foot orthotics to reduce stressful alignment and forces on the foot when necessary?

Absolutely, but it's not our preferred treatment method and less than 15% of the cases we see will require corrective orthotics.
What

is

our doctor's preferred treatment method for foot and ankle problems?

It's the same as our preferred treatment for any condition or complaint that presents to our office:
Identify the underlying stress

Correct the underlying stress with specific treatment techniques while helping our patients identify and reduce aggravating factors

Employ specific exercises and lifestyle modifications that restore strength and balance to the underlying weaknesses

Maintain that improvement by touching-base with our patients to ensure their continued well-being
These 4 steps can vary considerably depending on the condition being corrected, so let's look at one specific example related to feet and ankles.
---
Plantar Fasciitis

is one of the most common foot problems.

Patients with plantar fasciitis often complain of pain in the arch, bottom of the heel or in the achilles tendon and calf muscles.

The classic sign is the worst pain when first standing up on the feet in the morning or after sitting. It then reduces as the person continues to move around on the feet.

This pattern often repeats throughout the day when the person transitions to standing or walking after a period of rest.

Though pain typically reduces with walking, prolonged walking or standing can be stressful enough to cause painful aggravations. Plantar Fasciitis simply means "inflammation of the plantar fascia", the network of strong fibrous tissue that runs along the bottom of the foot from the heel to the toes.

The muscles and tissues that stretch along the bottom of the foot have become tightened.

When at rest, these tissues contract because we are not actively stretching them.

Hopping onto the feet after resting forces these tissues to stretch all of a sudden, resulting in significant pain and discomfort. This is much like what would happen if you immediately and forcibly stretched your leg muscles first thing in the morning after resting all night with them in a shortened fetal position.

As the tissue stretches back out with each step, the pain reduces.

Rest the feet again while driving to the store or sitting at the work desk, and sure enough, the pain returns when you get back on your feet. Conventional treatment options include splints that keep the foot tissues stretched throughout night, orthotics that prevent the foot tissues from stretching as much while standing and walking, corticosteroid injections to reduce inflammation, and even "surgical release" (i.e. cutting) of the plantar fascia.

The problem with each of these is that they fail to truly correct the underlying stress causing these tissues to tighten up and lose their flexibility in the first place.

What's the Real Problem?

That underlying stress is basically a result of under-use and mis-use of the feet.

Our feet contain 25% of all the bones in our body.

With

33 joints, 107 ligaments, 19 muscles in each foot, it's clear that these are amazing structures made to withstand significant physical stress and frequent activity.

So how is it that so many people are under-using or mis-using their feet?

Well imagine this: a big strong arm that is perfectly healthy is immobilized in a full cast with the elbow bent as if it had been broken.

Despite the fantastic health and strength of that arm, immobilizing it within a cast will cause the arm muscles to shrink and lose strength. When the cast is taken off it will be difficult to fully stretch, bend and extend that arm.

With this in mind, it's not difficult to imagine our shoes as a variety of foot and ankle casts.

We certainly benefit from the protection that shoes can offer. However, the footwear that is most rigid, restrictive and over-supportive will tend to cause the most weakness, and stiffness in the feet and ankles over time (think high-heels, dress shoes, work boots, or ultra-supportive running shoes).

On the other hand, those shoes with the most flexible structure and least support allow the foot to move, flex and bend as intended (think slippers, moccasins, chuck tailors, or toms).

Just as in the example with the cast arm, the more rigid and supportive your shoes are and the longer you wear them, the more likely you are to notice pain and tightness when you take them off or start into an activity that requires good foot flexibility like hiking, jogging or running.

If you do realize that your shoe type is often from the overly supportive or restrictive list, you will need to work that much harder making time to go barefoot or sock-only to counteract the casting you put your feet through each day.

As chiropractors, our doctors can use specific adjusting techniques that free up those chronic restrictions in joints, muscles, tendons and ligaments of the feet.

After we get these parts more relaxed and mobile, pain starts to reduce and we can recommend specific exercises that strengthen your personal weak spots.

Sharon's Relief From Foot/Ankle Pain With Chiropractic Care




"If I had tried this [chiropractic treatment] sooner, I would have brought my mom so maybe she could have had some relief from her foot pain before her death."

Sharon G. came to McMichael Chiropractic noting tightness in both ankles. They "felt like they just needed to crack. I could not walk without shoes and those had to be very supportive. Only a few pairs were comfortable."

After treatment she noted significant relief from the pain, tightness, numbness, and tingling. She could move better and energy improved. "I can go barefoot. No more stiffness. no more feeling like the ankles need to crack. Can go up and down stairs without holding on and fear of falling."

"I have always walked for exercise. I gave that up 3 years ago because of the pain. Now, not only do I walk daily, but I do the steps at McKinley Monument. During dad's stay in the hospital (2 weeks), I used stairs (6th floor) instead of the elevator. It would never have crossed my mind to do this before because of pain." It has been 5-6 years since I felt this good.

Melissa's Freedom From Foot Pain & Toe Numbness




Before treatment at McMichael Chiropractic, Melissa B. noted foot pain and numbness in her toes. Treatment reduced her pain and numbness to zero and improved her ability to be active. She is now more comfortable wearing different shoes.

It has been "years" since I have felt this good

.
At McMichael Chiropractic, we have found that a combination of conservative chiropractic care with physiotherapy often helps improve foot and ankle complaints and prevent the need for surgery. Other foot and ankle complaints and problems we have helped include acute or chronic ankle sprains, flat feet, swollen feet, foot pain & numbness, and more. Call us at (330) 492-1010 to schedule an examination.

---