Reduce Allergies & Asthma Without Meds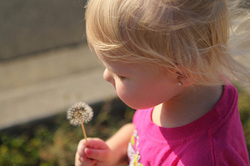 Reduce Allergies Without Meds
Asthma and allergies are a rapidly growing public health problem. According to the Centers for Disease Control and Prevention: About 23 million people, including 6.8 million children, have asthma. Asthma prevalence is higher among families with lower incomes. Twelve million people reported having an asthma attack in the past year. Asthma is one of the most common serious chronic diseases of childhood. Asthma is the third ranking cause of hospitalization among children under 15.

Why do so many children and adults have so much trouble when contacting otherwise harmless things? Why
is athsma more common among low income families? May is National Asthma & Allergy Month. During May our clinic will be focusing on natural ways to reduce allergies and asthma.

Take a peek at some interesting research:

A study of 20,016 children showed: Kids with higher body weight were more likely to have asthma. Kids who spent 5 or more hours per day watching television were more likely to have asthma compared with those who watched less than 1 hour a day. Adding salt to food was strongly associated with asthma. Journal: Epidemiology 2008 May 23; Vol. 19, Issue 5.

After 3 months of combining chiropractic manipulation with optimal medical management for pediatric asthma, the children rated their quality of life substantially higher and their asthma severity substantially lower. These improvements were maintained at the 1-year follow-up assessment. Journal: J Manipulative Physiol Ther 2001 Aug 22; Vol. 24, Issue 6.

Pregnant mothers that ate fish 2-3 times each week or more reduced the risk of allergies in their children by over one third. This includes food allergies AND inhaled allergies. After studying a variety of people, there was a similar trend found between increased consumption of fish and decreased prevalence of allergies. Pediatric Allergy and Immunology 17(2): 94-102.

Children who ate more margarine instead of butter were more likely to experience eczema or allergies (from inhaled allergens) in their lifetime. Pediatric Allergy and Immunology 17: 85-93.

Research of 15,000 children showed that consuming non-pasteurized raw milk offers protection against asthma and various allergies (including pollen, foods, animals,etc.). Clinical & Experimental Allergy 2007.

---
---