Pumpkin Bisque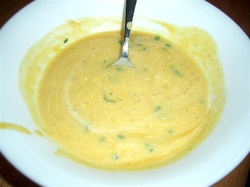 Warm up with some pumpkin bisque
Pumpkins are for more than carving - they're great for eating. Pumpkins are loaded with healthy nutrients. Here's a recipe for a delicious pumpkin soup to warm you up on a cold day. The recipe uses canned pumpkin for convenience, but give a real pumpkin a try. Just peel it, chop it, boil it for 25 minutes, and blend it into a mash. Use it for a recipe or freeze it for later.

4 bacon strips, chopped
1 medium onion, chopped
3 garlic cloves, minced
6 cups chicken broth
1 can (29 ounces) solid-pack pumpkin
1/2 teaspoon salt
1/4 teaspoon ground nutmeg
1/8 teaspoon pepper
1 cup heavy whipping cream
1 cup shredded Gouda cheese
2 tablespoons minced fresh parsley

Cook bacon over medium heat until crisp & remove from pan. Saute onion in drippings until tender. Add garlic; cook 1 minute longer. Stir in the broth, pumpkin, salt, nutmeg and pepper. Bring to a boil. Reduce heat; simmer uncovered for 10 minutes. Cool slightly. Use stick blender until smooth. Stir in cream; heat through. Add cheese; stir until melted.
---
---