Prevent Dance Injuries & Improve Performance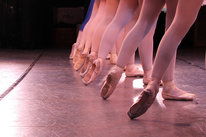 Reduce your risk of dance injury
Some experts consider professional football to be the only sport more physically demanding than dance. Though there is usually no tackling involved, dancers often experience injuries of their own. Common dance injuries usually involve the back, ankle, hip, knees, or feet. These injuries rarely result from one wrong move. More commonly these injuries develop over time with repetitive stress on muscles and joints.
A 1990 study reported that 52% of professional dancers reported chronic injury by the age of 18. However, it is not only professional dancers being injured. The study also noted that the average age of first injury was14-15 before becoming professional.
When trying to prevent these or other injuries there are several points to consider:
Wear well-fitting shoes.
Stretch and warm up before dancing.
Eat a diet full of fresh fruits & vegetables as well as healthy fats and protein.
Use a good dance surface.
Consider an evaluation for any complaints that persist more than two days, or sooner for serious dance injuries.
Athletic studies have shown chiropractic not only improves the body's ability to heal and stay healthy, it can also improve performance - increasing flexibility, balance, power, and reaction time, among other measures. See what chiropractic can do for you. Schedule a complementary consultation with our chiropractors for your dance injury.
---
---