Prescription Painkiller Deaths "Skyrocket" in Women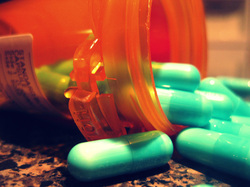 Painkillers like opioids are high risk.
Medpage Today
reported on statistics released by the CDC that found a large increase in deaths of American women related to prescription painkillers:
"Prescription painkiller drug deaths have skyrocketed in women," Thomas Frieden, MD, director of the CDC, told reporters during a press briefing. "It's not only deaths, but there is also a great increase in the number of emergency department visits for misuse and abuse ... of opioid painkillers."
There was a 415% increase in opioid painkiller-related deaths among women between 1999 and 2010 compared with a 265% increase among men, according to Karin Mack, PhD, of the CDC, and colleagues.
A total of 48,000 women died of prescription painkiller overdoses...
ED visits related to prescription opioid misuse or abuse "more than doubled"...Rates were highest among women ages 25 to 34, reaching nearly 50,000 ED visits for opioid painkillers in 2010.
Addictive painkillers like opioids were once used only for cancer patients. Their increasingly widespread use for chronic pain has created an epidemic, but little is being done to reverse the problem. It's best to avoid these medications unless other treatments have failed. Most patients who try a trial of conservative treatment like chiropractic care and good nutrition first can avoid taking this risky medications or other high risk treatment.
---
---