Not So Smart Choice

s (Food Labels)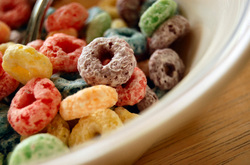 Froot Loops a smart choice?
A new food-labeling program called Smart Choices has been developed with help from most of the nation's largest food manufacturers.

A green checkmark label has started appearing on foods determined to be healthier choices. Surprisingly, this includes Froot Loops and other sugary cereals, as well as salty processed meats.

Michael Jacobsen, executive director of the Center for Science in the Public Interest quit the panel that developed the program when he realized decisions would be made by the food industry. "You could start out with some sawdust, add calcium, or vitamin A and meet the criteria [as a smart choice]."

Froot Loops is 41 percent sugar by weight. Only an incredibly bad system would determine Froot Loops is a "smart choice."

"The object of this is to make highly processed foods appear as healthful as unprocessed foods, which they are not," said Marion Nestle, a nutrition professor at New York University.

The FDA and Department of Agriculture sent a letter to the program board stating they would be concerned if the smart choices label "had the effect of encouraging consumers to choose highly processed foods and refined grains instead of fruits, vegetables and whole grains." Don't be fooled on your next trip to the grocery store. Info from New York Times article by William Neuman.
---
---