Movie Review: Supersize Me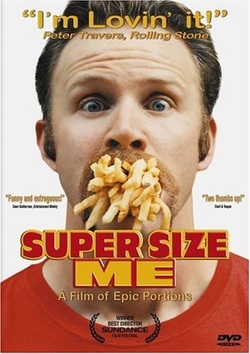 Watch with a smile.
Doctor Recommended
: Enjoy this entertaining adventure in the world of fast food
"What would happen if you ate nothing but fast food for an entire month? Filmmaker Morgan Spurlock does just that and embarks on the most perilous journey of his life...For 30 days he can't eat or drink anything that isn't on McDonald's menu...Spurlock treks across the country interviewing a host of experts on fast food and an equal number of regular folk while chowing down at the Golden Arches. Spurlock's grueling drive-through diet spirals him into a physical and emotional metamorphosis that will make you think twice about picking up another Big Mac."
- imdb.com
"Eating out isn't that big of a deal...sometimes I buy the chicken or the salad or the yogurt parfait." If that sounds like you or someone you love, it's time to watch this moving. Spurlock takes you on an entertaining fast food adventure where he shows you what's going on behind the scenes of the fast food industry, while treating himself like a guinea pig on an all McDonald's diet.
During his 30 days of eating McDonald's, Spurlock lives by 5 rules:
He must fully eat three McDonald's meals per day: breakfast, lunch, and dinner.
He must consume every item on the McDonald's menu at least once over the course of the 30 days.
He must only ingest items that are offered on the McDonald's menu, including bottled water. All outside consumption of food is prohibited.
He must Super Size the meal when offered, but only when offered.
He will attempt to walk about as much as a typical American, about 5,000 steps per day.
The health changes Spurlock experiences in less than a month are surprising, even for those of us who know how dramatically diet can affect our health. For those who know a healthy diet is important, but don't think it has that much impact on our health (most Americans including doctors), the results of his experiment are almost unbelievable.
---
Before his eating adventure, Spurlock is evaluated by three medical doctors who give him the healthy seal of approval. They advise against his experiment, but generally don't think

one month of poor diet will have a significant impact on his health. Before day 30, their eyes are popping out of their heads as they re-evaluate his change in health status. You'll watch them pick their jaws up off of the floor to demand that he stop killing himself.

After such dramatic health changes in less than a month, there's no question as to what has caused his new health problems.

The sad part is thinking about the millions of Americans who assume their ill health is related to bad genes, so the only/best solution is popping daily medications for a lifetime.

This movie should be required watching for everyone.

Spurlock has done a great job making a movie that is as entertaining as it is eye-opening.

Take a quick peak at the movie trailer on the right, or watch it for free right now on hulu.com
---