More Kids Get Kidney Stones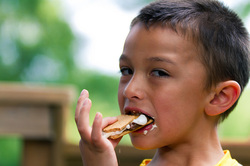 What's in Your Child's Future?
(AssociatedPress)

"Doctors are puzzling over what seems to be an increase in the number of children with kidney stones, a condition some blame on kids' love of cheeseburgers, fries and other salty foods."

"At Children's Hospital of Philadelphia, the number of children treated for kidney stones since 2005 has climbed from about 10 a year to five patients a week now."

"In a 2007 study in the Journal of Urology, doctors at North Shore-Long Island Jewish Medical Center reported a nearly fivefold increase in children brought in with kidney stones between 1994 and 2005. In 2005, 61 youngsters were treated there for stones."

This is not puzzling. Kids are eating worse than they ever have. Conditions traditionally seen in adults are now becoming common in kids. It is time to start eating better & increasing activity levels. Our doctors can help coach you on the best diet for your children.

---
---