Make Choices Now That Pay Off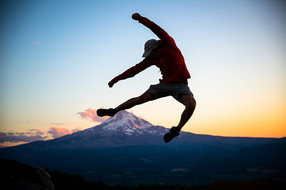 A healthy lifestyle makes a healthy life
Lower blood sugar, decrease cholesterol and blood pressure, prevent atherosclerosis, reduce the risk of heart attack or stroke, support gastrointestinal health and reduce the risk of developing colon cancer, protect against many cancers, maintain healthy bones, decrease inflammation of arthritis, asthma, and respiratory congestion...
Sound like the benefits of a wonder drug? Actually, they are the potential benefits of eating onions. And the only side effect is onion breath. Research that has long focused on drugs is finally taking the time to uncover the secret benefits or harmful effects of the food we eat.
We now know that our diet affects the health of our heart, bones, blood vessels, pancreas, liver, brain and every other part of our bodies. Eating well can help you look better and feel better. An apple (or onion) a day really can keep the doctor away.
What's the key to improving your health through better eating choices?
Nature. It's that simple. We have overloaded our bodies with junk from boxes, cans, and bags. Commercial food processors remove most of the nutrients from foods, adding chemicals to make them taste good, look pretty, and last for a year on store shelves. Most of what we eat these days has been so processed it is not really food any more. So how do we fix that problem?
Eat foods that haven't been made in a lab
. Eat real, fresh, whole foods to improve your overall health. Eat whole fruits and vegetables. Eat nuts and seeds for good fat and protein. Eat healthy meat that hasn't been pumped full of hormones or antibiotic. Lightly cook these nutritious foods to preserve their nutrients.
Eat healthy and save money
. By preparing your own healthy meals, you can save yourself the cost of going out to eat or buying pricier packaged foods.
Growing a vegetable garden
is a great way to save money and ensure your food is fresh and all natural. Stop by a
local farmers' market
for fresh produce at a good price. Drinking water instead of soft drinks, processed fruit juice, sugary energy drinks, or coffee can add up.
Ask our doctors for more ideas on how to eat better and save money. Eat better and live better. Making simple changes in your lifestyle could prevent or postpone expensive chronic diseases and related treatment costs in the future. Start making changes now that can prolong your life and make living better.
---
---