First Visit at McMichael Chiropractic


Welcome Greeting

Expect a member of our staff to offer you a warm greeting when you enter our office. If you'd prefer to start your first visit with a quick tour of our office, just let them know.

Patient Information Intake Forms

Whether you're scheduled for a chiropractic examination or a nutritional evaluation, you will complete some preliminary papers to ensure that our doctors have a good base of information to work from. Many of our New Patients prefer to complete some forms prior to their first appointment in order to save some time during their first visit. If this is what you would prefer, simply print out & complete the forms available on the

"Forms" page

.

---
Consultation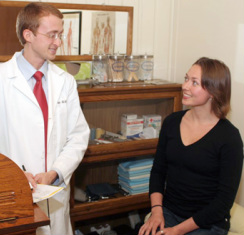 We offer complimentary consultations at our office. If you have questions about whether we may be able to help you return to health, feel free to make your first appointment for a consultation only.

During the consultation, our doctors will ask all of the necessary questions to get a good idea of what may be going on with your particular case, as well as your general health status and any related concerns you might have. They will also focus on determining what your health goals are, be it to optimize overall health, correct a specific dysfunction, or relieve pain and correct structural abnormalities that occurred due to a recent injury.

At the end of the consultation, our doctors will let you know if they believe we can help you achieve your goals at our office. If so, they will perform an examination to determine the cause of your problem and how they can best help you.
---
Examination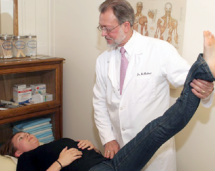 Examination of all patients begins with measurements of height and weight, heart rate, blood pressure, respiration, and temperature to ensure a good baseline of information in our records.

Our doctors begin chiropractic examinations with a posture screening, identifying areas of stress in the body by recognizing variations from normal. Your examination may include any or all of the following: ranges of motion, muscle strength, muscle reflexes, cranial nerve reflexes, specific orthopedic tests and neurological signs. The doctor will palpate areas that they suspect may be involved with your current condition. Other specific tests may be completed depending on your specific case and your health goals.

Our doctors will determine whether or not an X-Ray study would be beneficial to the assessment of your condition, and let you know at the end of your examination.
---
X-Ray Studies / Diagnostic Imaging


Diagnostic imaging is performed on an individual basis, depending on the doctor's findings from the consultation and examination. X-Ray studies can often be completed in our office for your convenience. If you have recent films or copies of MRI or CT imaging, please bring them with you on your first visit so that our doctors can review them when determining what care will help you most.
Scheduling a Follow-Up Visit


Our doctors will take time to closely review your examination findings before presenting you with a treatment plan. Your treatment plan will be created to restore your body to optimal health. If you are in moderate-severe pain, the doctor may offer some gentle care to provide some relief on your first visit. You will then schedule for a Report of Findings on your next visit.
Second Visit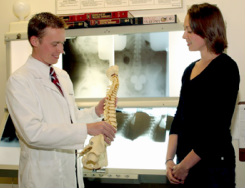 Our doctors will report all significant findings to you at this time; reviewing your case history, examination results, and any x-ray studies completed. The doctor will inform you as to whether or not your condition is likely to respond to chiropractic care and how this may help you achieve your health goals. If our doctors believe they can help you, they will review the details of your personalized care plan with you. This will include treatments/ therapies to be employed and approximately how long it will take for you to achieve your goals. If your condition is not amenable to chiropractic care, the doctor will refer you to an appropriate specialist.

If you understand and agree with the treatment plan outlined by the doctor, your care will usually be initiated on this visit.
---
---