Fast Food Linked to Asthma & Eczema in Kids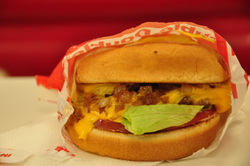 Fast food may worsen asthma & eczema
Scientists recently published a study investigating dietary habits (including fast food consumption) and asthma & eczema in kids.
They noted, "Certain foods may increase or decrease the risk of developing asthma, rhinoconjunctivitis [nasal stuffiness, drainage, irritation, etc.] and eczema [a common skin disease]. We explored the impact of the intake of types of food on these diseases in Phase Three of the International Study of Asthma and Allergies in Childhood."
This large international study surveyed about 500,000 parents and kids over a 12-month period
about their eating habits and health problems. The results highlighted links between eating certain types of food, asthma, sinus problems, and eczema.
Fast food increased asthma, sinus problems, and eczema severity while fruit reduced them.
Three or more weekly servings of fast food were linked to an increased risk of severe asthma, as well as to the severity of sinus inflammation and eczema. Three or more weekly servings of fruit were linked to a protective effect on asthma, reducing the severity of wheezing and other complaints.
The researchers noted this link between fast foods and health problems is a major public health issue that should be further studied.
Don't wait for more research to confirm common sense. Our doctors recommend avoiding fast food and other processed foods as much as possible. We have repeatedly seen improvements in health when patients reduced these manufactured foods and eat more real foods like fruits, vegetables, good meats and fats.

If your child has asthma, eczema, or other health problems, start reducing their fast food intake and feed them real food.
---
---