Deadly Chemical Used in Home Bathrooms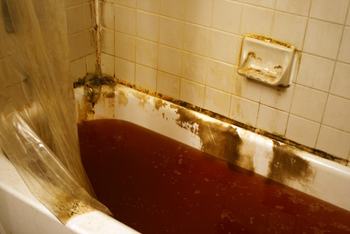 What harsh chemicals would you use to clean up this mess?
The following article illustrates once again the caution we should use with chemical products in our homes. These products do not have to be proven safe to be sold in stores. The FDA has to prove them to be unsafe to ban them from being sold in stores. It's difficult to complete rigorous testing on them to accurately determine their health risks.
"DETROIT
— The U.S. Centers for Disease Control and Prevention issued a warning late last week about using a common paint-stripping chemical to refinish bathtubs after tying it to 13 deaths in 10 states.The CDC said the alert was based on research that began at Michigan State University.
Scientists found 13 deaths between 2000 and 2011 of workers using products containing methylene chloride to strip paint from residential bathtubs. Three of the deaths were in Michigan, and the remaining 10 were reported in nine other states. Methylene chloride is widely used as a degreaser and paint remover in industrial and home-improvement products..."
Read the full article
here
.
Methylene chloride is one of the thousands of chemicals available for everyday use at home or work. However, most chemicals won't cause immediate death after exposure. It's more common for them to cause milder issues over a period of time as they accumulate in our bodies and interfere with our hormones. Have you looked to see what's in the everyday products you use? Learn more at our next
purification class
.
---
---