Coconut Ice Cream: A Healthy & Tasty Treat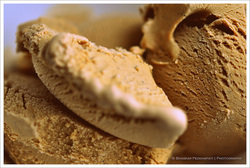 Make your favorite flavor of coconut ice cream
1 Can Coconut Milk ( not "light" )
1 Teaspoon Vanilla Extract
1 Cup Cut Fruit (Banana, Mango & Pineapple work best for sweetness without adding sugar)

Blend coconut milk with fruit. You can let an ice cream maker do the work from here or make it yourself by freezing the mixture, taking it out of the freezer every 1-2 hours to blend until it's a good consistency (usually 2-3 blends).

It's best served fresh the same day, so start the first freeze 3-4 hours before you plan to eat it. Top with nuts, berries or shredded coconut. Consider blending in a touch of stevia, honey or real maple syrup the first time if the kids want a little more sweetness. If you are a chocolate fan, mix in some cocoa powder.

Coconut Oil is loaded with Medium Chain Triglycerides (MCTs), the same beneficial fats found in breast milk. MCTs are known for being easy to digest, providing quick energy without the blood sugar and insulin spike caused by carbohydrates, and MCTs have strong anti-viral properties. It should be one of the first oils you reach for when preparing food for your kids.
---
---