Book Review: The Omnivore's Dilemma - A Natural History of Four Meals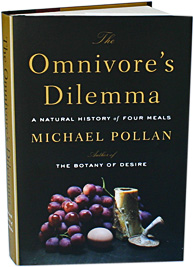 Avoid the Dilemma - Read It
Doctor Recommended
: Enjoy this book with a hearty steak and salad...just know where it came from
"What should we have for dinner? The question has confronted us since man discovered fire, but according to Michael Pollan, the bestselling author of
The Botany of Desire
, how we answer it today, at the dawn of the twenty-first century, may well determine our very survival as a species. Should we eat a fast-food hamburger? Something organic? Or perhaps something we hunt, gather, or grow ourselves? The omnivore's dilemma has returned with a vengeance, as the cornucopia of the modern American supermarket and fast-food outlet confronts us with a bewildering and treacherous food landscape. What's at stake in our eating choices is not only our own and our children's health, but the health of the environment that sustains life on earth."
- michaelpollan.com
Pollan does an excellent job of taking the reader on a journey from how our food is grown...to how it ends up on your plate (or box). That journey becomes
very
different when he covers the four main ways of procuring a meal:
Conventional Foods

are the vast majority of what is purchased at grocery stores or restaurants

Industrial Organic Foods

make up a growing amount of food, usually purchased at organic grocers


Locally Raised Small Farm Organic Foods

are usually purchased from the farm or at a farmers' market


Hunting/Gathering Wild Foods

, which is rather uncommon these days

Pollan spends most of his time following the journey of conventional foods. He has three good reasons for this focus: these foods make up most (in some cases all) of what Americans eat, they move through a surprisingly complex system of processing & alteration, and present us with the greatest health risks. It's amazing how little Americans know about how industrialized our food system has become. Did you know the hamburger you just ate was made of hundreds of cows that spent their last few months confined with thousands of other cows; fed mostly corn with supplements, antibiotics, hormones, parts of cows slaughtered yesterday, and who knows what else? And that corn they ate is a mix of genetically modified or hybrid strains grown with a cocktail of synthetic chemicals. This isn't anything close to the normal diet of grass cows are meant to eat, and it results in a sick animal that is not healthy to eat.
Industrial organic foods are raised surprisingly similar to conventional foods. The only difference by law is that they must be grown without synthetic chemicals.
That organic food you ate yesterday is likely healthier than the non-organic variety, but the difference may not be that big. It all depends on the farm and whether their goal is to produce healthy foods.
Most of us are unlikely to spend our time hunting and gathering each meal, so the most reasonable option ends up being local sources of chemically-free, pasture-raised foods from small farms.
The book helps us understand how healthy food (even red meat) can be when it's raised the way it was meant to be (unfortunately, a nearly lost art). Eating healthy plants & animals = healthy humans.
If you find yourself in a dilemma over whether your meal is healthy or not, let this book be your guide.
---
---