Book Review: Food Rules -
An Eater's Manual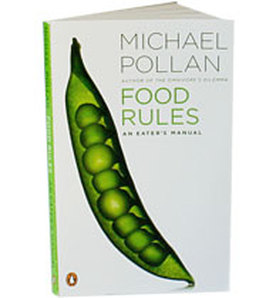 Simply Good
Doctor Recommended
: Read these simple rules to eat by...then follow them
"Eating doesn't have to be so complicated. In this age of ever-more elaborate diets and conflicting health advice,
Food Rules
brings a welcome simplicity to our daily decisions about food. Written with the clarity, concision and wit that has become bestselling author Michael Pollan's trademark, this indispensable handbook lays out a set of straightforward, memorable rules for eating wisely, one per page accompanied by a concise explanation. It's an easy-to-use guide that draws from a variety of traditions, suggesting how different cultures through the ages have arrived at the same enduring wisdom about food. Whether at the supermarket or an all-you-can-eat buffet, this is the perfect guide for anyone who ever wondered, 'What should I eat?'"
- michaelpollan.com
Pollan makes the increasingly complex job of eating well - simple. He offers 64 rules (64 rules? I thought you said it was simple) to help guide you to making healthier eating choices. The idea is NOT to memorize every rule, because the ideas behind many of them are redundant. He offers these rules in the hopes that a few will stick in the minds of each reader, which is all it takes to eat better.
Here are a few of our favorites:
#2 - Don't eat anything your great-grandmother wouldn't recognize as food.
#4 - Avoid products that contain high-fructose corn syrup.
#6 - Avoid food products that contain more than five ingredients.
#8 - Avoid food products that make health claims.
#9 - Avoid food products with the wordoid "lite" or the terms "low-fat" or "nonfat" in their names.
#13 - Eat only foods that will eventually rot.
#18 - Don't ingest foods made in places where everyone is required to wear a surgical cap.
#20 - It's not food if it arrived through the window of your car.
#27 - Eat animals that have themselves eaten well.
#36 - Don't eat breakfast cereals that change the color of the milk.
#44 - Pay more, eat less.
#57 - Don't get your fuel from the same place your car does.
#59 - Try not to eat alone.
#60 - Treat treats as treats
#62 - Plant a vegetable garden if you have the space, a window box if you don't.
The simplicity of this book makes it a great one for everyone to read. Pick it up and polish it off in an afternoon. Following these rules can change your life.
---
---