Alliance Farmers' Market

Alliance Ohio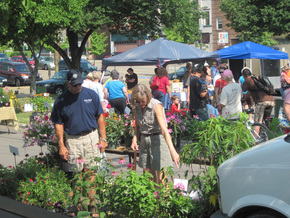 Saturdays 9am-noon
June through October
Parking lot at the corner of E Main St and Mechanic Ave in Alliance – just look for the red caboose.
www.alliancefarmersmarket.com
(330)821-7712
The Alliance Farmers' Market was established in April of 2008 when a small group of interested community members saw a niche for local growers and producers. Combining the resources of several individuals and groups, a site in downtown Alliance was established and they decided to host the Market. The organizers decided that the Alliance Farmers' Market would feature only locally grown or produced food.
---
Local Vendors at the Alliance Farmers' Market

Blackbird Meadows Farm

- vegetables, jicama, herbs, strawberries (sustainably grown using organic methods)

DeHoff's Flowers, Greenhouse and Landscaping

- annuals, perennials, potted plants, hanging baskets

Fedamore Farm

- breads, pies, cookies, cakes, cinnamon rolls

Hillside Produce

- strawberries, vegetables, melons, fried pies

Locust Hill Fine Foods

- jams, pound cakes, biscotti, scones, chai tea, cocoa mix, pies, herbs, herb mixes, cut flowers

Maize Valley Farm

- large selection of produce, 10 herb varieties, pumpkins, gourds, Indian corn, pie pumpkins

Marcia's Baked Goods for Pets

- muffins, cookies and crackers for cats and dogs

Marshall Apiary

- honey, beeswax candles

Mendiola Farm

- garlic scapes, herbs, vegetables, okra, tomatillas, pumpkins, dill, iris, hosta

Ornery Goat Dairy

- chevre, fresh feta, marinated feta, milk, (ricotta and fudge occasionally)

Snyder's Orchard

- apples, peaches, melons, vegetables, pumpkins, watermelon, beans

Tri Pine Farm

- freezer beef and pork

Arrowhead Orchard

- apples, peaches, nectarines, potatoes, cider, vegetables, honey, apple butter, plums, pears, garlic (Aug. 7 to Oct. 16)

Bocaditos

- salsa, guacamole, bean dip

Brenckle Farm

- vegetables, mustard, turnips, collard greens, melons, berries, pumpkins

G&J Produce

- tomatoes, squash, cucumbers, peppers, green beans

Hostetler Farm Bakery

- jams, jellies, pies, breads, cookies, cakes

Inara Marie's Cookie Cottage

- cookie and muffin varieties, some gluten-free

May's Produce

- vegetables, kohlrabi, pumpkins, red raspberries

Tri-County Growers Co-op

- eggs, fresh chicken, vegetables, beans, cabbage, parsley, oregano

Shirley Webb

- cookies, flavored breads, muffins, pineapple cake

True Yang

- cilantro, basil, parsley, sweet charm, vegetables, banana peppers, jalapeno peppers, collard greens, snow peas

Jenkins Products

- berries, jellies, baked goods

Pontius Maple Syrup

- maple syrup (first two weeks)

Sandy Springs

- potatoes, sweet corn

Sweet Treats and More

- breads, pies, cookies, cakes, cupcakes, streusels, rolls, cobblers, biscotti, scones
---