7 Holiday Eating Tips From Our Doctors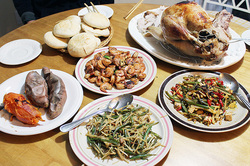 Holiday Eating Can be Deliciously Healthy
The holidays are a time to enjoy with one another and part of that enjoyment often includes a feast. Here are 7 quick tips to make you feasting healthier but still delicious:
Make an Easy Nutty Crust - switch up your pie crust for healthier alternative to cut the carbs. Just crush some nuts in a processor, mix with butter, add a pinch of salt, and press it into the pan. Or go crustless.
Use Real Whipped Cream - the real stuff tastes so much better than processed Cool Whip or Ready Whip and it's easy to make. Buy some heavy whipping cream and blend with a little good sweetener (real maple syrup, honey, etc.).
Sneak in the Veggies - add them to stuffing (onions, celery, spinach), potatoes (cauliflower, broccoli), holiday bread (zucchini), and wherever else you can hide them.
Try Coconut Oil for Your Baked Goods - it tastes great and is healthier than the usual vegetable oils and shortening.
Sweeten with Fruit - add some fruit like bananas, apples, or apple sauce to sweeten your desserts using less sugar. Applesauce can also replace some of the oil.
Use Whole Milk Instead of Evaporated Milk - it makes pumpkin pie and other treats taste so much better and avoids the junk.
Leave Santa Some Veggies - can you imagine eating millions of cookies on Christmas eve? Give the guy a break so he lives until next year.
---
---